WATCH massive crowds flood Khartoum streets as rival demonstrations are held in Sudanese capital over transitional govt
Thousands have taken to the streets of Sudan's capital of Khartoum as rival demonstrators gathered to support both military and civilian forces vying for power during a tense transition period for the nation. Supporters of Sudan's transitional government held a massive march on Thursday, as rival pro-military protesters staged their own rally outside the presidential palace in the capital.The demonstrations were organized by opposing factions from the Forces for Freedom and Change (FFC) coalition, which had previously led mass protests against longtime leader Omar al-Bashir, back in 2019.[embedded content]In the wake of al-Bashir's ousting, a fragile power-sharing agreement was put in place that saw the creation of a Sovereign Council of military and civilian leaders created – and is tasked with overseeing the transition period expected to end with general elections in 2023. A civilian-led cabinet headed by Prime Minister Abdalla Hamdok was also put in place.Tensions continued to mount in the wake of a failed coup attempt by al-Bashir's supporters in September, which saw the FFC split into rival groups. One group now supports transition to civilian rule and backs Hamdok's government, while the other wants the military to take power.On Saturday, pro-military protesters chanted: "Down with the hunger government" and called on the Army to seize control. They have accused the civilian government of failing to revive the nation's economy and exacerbating bread shortages. Some even staged a sit-in near the presidential palace.#Sudan manifestation massive "pro-démocratie" à Khartoum en soutien au gouvernement civil Soudanais (depuis 2019), qui est sous pression de l'armée, même si ses résultats économiques ne sont pas à la hauteur des aspirations de la population pic.twitter.com/jpSln4GJy1— Charli☀️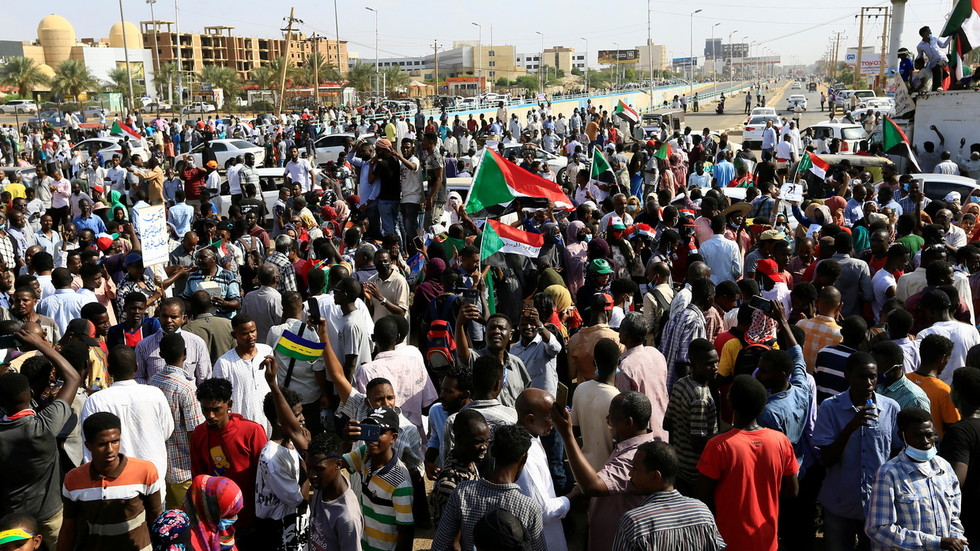 Thousands have taken to the streets of Sudan's capital of Khartoum as rival demonstrators gathered to support both military and civilian forces vying for power during a tense transition period for the nation.
Supporters of Sudan's transitional government held a massive march on Thursday, as rival pro-military protesters staged their own rally outside the presidential palace in the capital.
The demonstrations were organized by opposing factions from the Forces for Freedom and Change (FFC) coalition, which had previously led mass protests against longtime leader Omar al-Bashir, back in 2019.
[embedded content]
In the wake of al-Bashir's ousting, a fragile power-sharing agreement was put in place that saw the creation of a Sovereign Council of military and civilian leaders created – and is tasked with overseeing the transition period expected to end with general elections in 2023. A civilian-led cabinet headed by Prime Minister Abdalla Hamdok was also put in place.
Tensions continued to mount in the wake of a failed coup attempt by al-Bashir's supporters in September, which saw the FFC split into rival groups. One group now supports transition to civilian rule and backs Hamdok's government, while the other wants the military to take power.
On Saturday, pro-military protesters chanted: "Down with the hunger government" and called on the Army to seize control. They have accused the civilian government of failing to revive the nation's economy and exacerbating bread shortages. Some even staged a sit-in near the presidential palace.
#Sudan manifestation massive "pro-démocratie" à Khartoum en soutien au gouvernement civil Soudanais (depuis 2019), qui est sous pression de l'armée, même si ses résultats économiques ne sont pas à la hauteur des aspirations de la population pic.twitter.com/jpSln4GJy1

— Charli☀️