The Run Up to Chinese New Year
By Shawn Wright, Teacher in Nanjing 2019 – 2020 Everyone's favourite period of the Chinese school year was here, Spring Festival, which means 4 weeks paid holiday. Spring Festival signifies the start of the Lunar New Year (also called Chinese New Year) and this year it took place on 25th January. It is traditional here for the older generation to hand out red envelopes filled with money to the younger generation as it is supposed to bring good luck in the upcoming year. People also hang up red banners on their doors, wear lots of red clothing and set off firecrackers. In case you hadn't noticed, China likes the colour red, they think that it will being them good fortune. Spring Festival is probably the Chinese equivalent to Christmas and New Year in the UK; all of the businesses close for the holidays, people travel home to see their families and everyone is busy celebrating. Most foreign teachers take this time to either go travelling or visit home for a few weeks. My plan was to travel China in the run up to Chinese New Year and then jet off to Southeast Asia. I already had everything booked but then luckily all of the students at my school had to sit their exams on the final week of term so we managed to get an extra week's holiday added on at the last minute. So, with this extra time I booked myself a trip to Osaka in Japan. Osaka Japan is most definitely my favourite place on earth (sorry China!). The flights from Nanjing were pretty cheap so it was a no brainer as to where I should spend my extra time off. I arrived at my hostel around 9pm and decided to head out and check out the nightlife. The main district in Osaka was bustling with bright lights and tons of cool wee bars. There were bars with retro video games, bars with board games, Japanese bars and bars from several other countries as well. There is also a street that is around 2km long filled with shops and restaurants that are open until late so no matter what nightlife experience you're after, you're bound to find it here. On the first full day, I visited the Osaka Museum of Housing and Living. The museum was basically laid out to resemble what an old Japanese village would've looked like hundreds of years ago and it gives you a glimpse into what life would have been like back then. There was also a kimono experience where you could walk around the museum wearing traditional Japanese clothing to give you the full authentic experience. It was really interesting to see what life was like in feudal Japan and if you're interested in Japanese history then it's definitely worth a visit. Afterwards I headed to the real reason anyone comes to Japan, the Pokémon Centre. Even though it's pretty much just a store, the Pokémon Centre was probably one of my favourite things about Osaka. They sell tons of merchandise there and you could probably come out with Pokémon everything if you really wanted to. Even if you don't want to buy anything it's still really cool to have a look around the store and take a little stroll down memory lane. This Pokémon Centre even had its own café where you could buy Pokémon themed food and drinks too. If, like me, you're secretly a bit of a geek then Japan will probably be paradise for you. The majority of people here love video games, comic books and anime and it is extremely easy to find huge shops which sell pretty much everything you can imagine from your childhood. Osaka isn't all just anime and comic books however, there are several amazing temples and even a huge castle. One of the shrines I visited was called Sumiyoshi-Taisha. This is one of the oldest shrines in Japan, founded around 1,800 years ago. The temple grounds were really well maintained and it was a nice area to stroll around for an hour or so. There were a few merchant stalls set up which sold handmade crafts and traditional tea sets and there was even some sort of ceremony that you could attend and watch (unfortunately I had no idea what was going on since it was all in Japanese). Being located in the city, it's pretty easy to get to the temple grounds via tram or metro and yet it still manages to feel like you're away from all the hustle and bustle of city life. Probably the top place to visit in Osaka is Osaka Castle. The castle is absolutely stunning and is surrounded by a moat with only 2 bridges allowing access to it. You could probably spend almost a full day here as there are quite a few things to do. You can pay to actually go into the castle and climb to the top where you can get a great view of Osaka, the castle also hosts a museum which explains a bit about its history and how it was built. The castle courtyard has a building which houses a handful of Japanese shops where you can buy things like personalised chop sticks, ninja gear, traditional clothing, souvenirs and you can even buy replica swords. Last time I was here I bought an umbrella that looked like a sword, walking around the UK with that got me a few dodgy looks for sure. Th
Everyone's favourite period of the Chinese school year was here, Spring Festival, which means 4 weeks paid holiday. Spring Festival signifies the start of the Lunar New Year (also called Chinese New Year) and this year it took place on 25th January. It is traditional here for the older generation to hand out red envelopes filled with money to the younger generation as it is supposed to bring good luck in the upcoming year. People also hang up red banners on their doors, wear lots of red clothing and set off firecrackers. In case you hadn't noticed, China likes the colour red, they think that it will being them good fortune. Spring Festival is probably the Chinese equivalent to Christmas and New Year in the UK; all of the businesses close for the holidays, people travel home to see their families and everyone is busy celebrating. Most foreign teachers take this time to either go travelling or visit home for a few weeks. My plan was to travel China in the run up to Chinese New Year and then jet off to Southeast Asia. I already had everything booked but then luckily all of the students at my school had to sit their exams on the final week of term so we managed to get an extra week's holiday added on at the last minute. So, with this extra time I booked myself a trip to Osaka in Japan.
Osaka
Japan is most definitely my favourite place on earth (sorry China!). The flights from Nanjing were pretty cheap so it was a no brainer as to where I should spend my extra time off. I arrived at my hostel around 9pm and decided to head out and check out the nightlife. The main district in Osaka was bustling with bright lights and tons of cool wee bars. There were bars with retro video games, bars with board games, Japanese bars and bars from several other countries as well. There is also a street that is around 2km long filled with shops and restaurants that are open until late so no matter what nightlife experience you're after, you're bound to find it here. On the first full day, I visited the Osaka Museum of Housing and Living. The museum was basically laid out to resemble what an old Japanese village would've looked like hundreds of years ago and it gives you a glimpse into what life would have been like back then. There was also a kimono experience where you could walk around the museum wearing traditional Japanese clothing to give you the full authentic experience. It was really interesting to see what life was like in feudal Japan and if you're interested in Japanese history then it's definitely worth a visit. Afterwards I headed to the real reason anyone comes to Japan, the Pokémon Centre. Even though it's pretty much just a store, the Pokémon Centre was probably one of my favourite things about Osaka. They sell tons of merchandise there and you could probably come out with Pokémon everything if you really wanted to. Even if you don't want to buy anything it's still really cool to have a look around the store and take a little stroll down memory lane. This Pokémon Centre even had its own café where you could buy Pokémon themed food and drinks too. If, like me, you're secretly a bit of a geek then Japan will probably be paradise for you. The majority of people here love video games, comic books and anime and it is extremely easy to find huge shops which sell pretty much everything you can imagine from your childhood.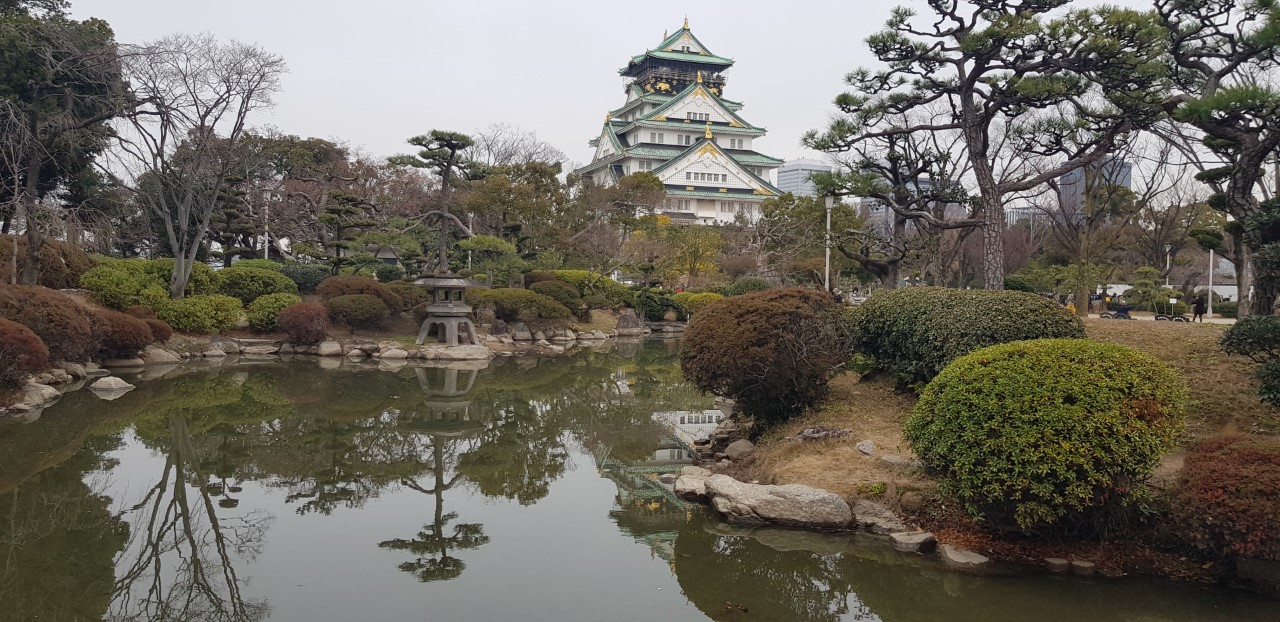 Osaka isn't all just anime and comic books however, there are several amazing temples and even a huge castle. One of the shrines I visited was called Sumiyoshi-Taisha. This is one of the oldest shrines in Japan, founded around 1,800 years ago. The temple grounds were really well maintained and it was a nice area to stroll around for an hour or so. There were a few merchant stalls set up which sold handmade crafts and traditional tea sets and there was even some sort of ceremony that you could attend and watch (unfortunately I had no idea what was going on since it was all in Japanese). Being located in the city, it's pretty easy to get to the temple grounds via tram or metro and yet it still manages to feel like you're away from all the hustle and bustle of city life.
Probably the top place to visit in Osaka is Osaka Castle. The castle is absolutely stunning and is surrounded by a moat with only 2 bridges allowing access to it. You could probably spend almost a full day here as there are quite a few things to do. You can pay to actually go into the castle and climb to the top where you can get a great view of Osaka, the castle also hosts a museum which explains a bit about its history and how it was built. The castle courtyard has a building which houses a handful of Japanese shops where you can buy things like personalised chop sticks, ninja gear, traditional clothing, souvenirs and you can even buy replica swords. Last time I was here I bought an umbrella that looked like a sword, walking around the UK with that got me a few dodgy looks for sure. There are also a couple of live experiences in the building as well as a café and a rooftop restaurant. You could easily spend a couple of hours exploring the huge castle grounds which are filled with little parks and walkways or you can book a boat tour to take you around the moat. The best time to visit here is probably around April time as that is when the hundreds of cherry trees will start to blossom.
Osaka has a huge metro system which is super convenient and simple to use and it makes getting around very easy. It is also quite cheap as well, I think I paid around 680 yen (around £5) for a day ticket which could be used as many times as you want. Another thing that was very helpful was that my Chinese bank card worked in Japan. If you ever travel there you don't need to worry about exchanging your money in China, as long as your bank card is a UnionPay card then you can use it to withdraw cash for minimal fees at the ATMs in a store called 7/11, which can be found literally everywhere in Japan.
Xiamen
The next stop on my travels was the coastal city of Xiamen. Xiamen is in the southeast of China so it's a bit warmer than a lot of the other major cities during winter. I only spent a couple of days here but it felt a lot different compared to other Chinese cities I've been to. The coast is lined with nice beaches and palm trees and it felt more like I was in the Caribbean. Whilst I was there, I used one of the bike services where you can just scan a QR code on any bike you find in the city and take it anywhere you want and leave it anywhere as well. This is a great way to get around as it saves you the hassle of having to return the bike to where you got it and if you want to walk for a while you can just leave it on the path and pick up a different bike later on. Cycling along the coast was great, some of the views were amazing and they have a route for pedestrians and cyclists which can take you for miles without having to worry about any busy roads or cars. I cycled for a few miles and stumbled upon some traditional Chinese village called Zeng Cuo'an (曾厝垵) which was filled with loads of shops and food stalls selling all sorts of strange things. If you enjoy being adventurous with your food then China is definitely the place for you because they eat pretty much anything here. If you're up for a spot of shopping in Xiamen then a great place to go is Zhongshan Road Pedestrian Street. This commercial street has a ton of restaurants and shops ranging from designer to souvenir shops. As well as that there are a few shopping centres along here so you should pretty much be able to find anything you want. I even spotted a Hello Kitty café there which I didn't know was a thing until now.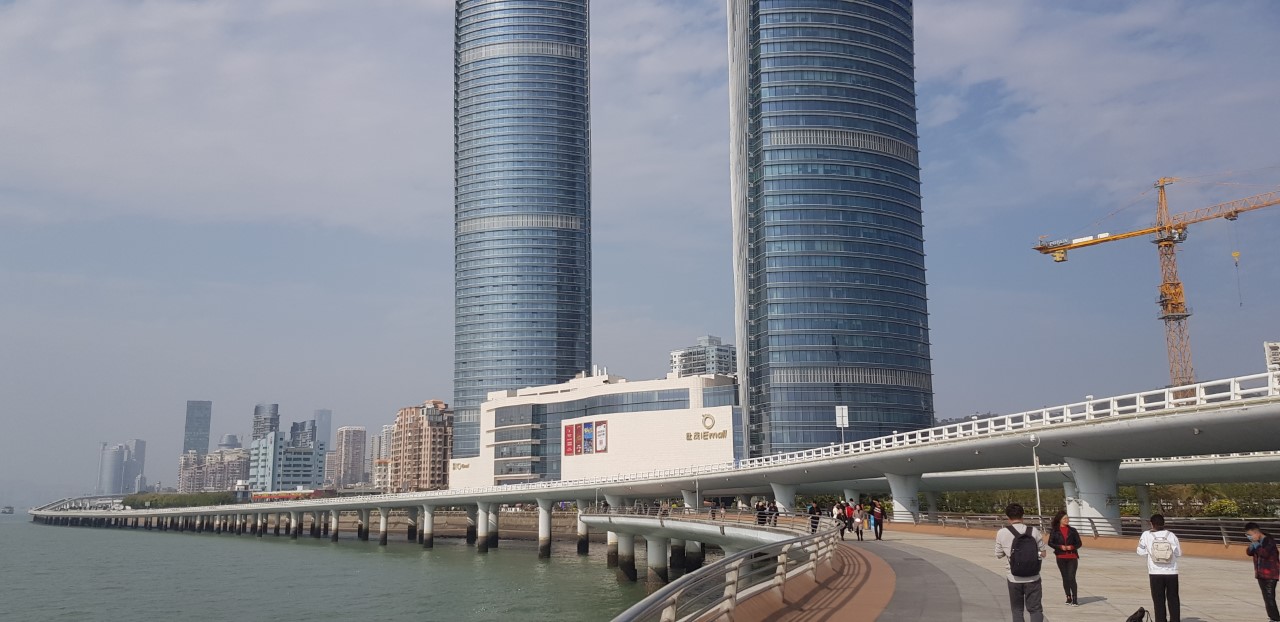 Guangzhou
I spent the last couple of days leading up to Chinese New Year back in Guangzhou. Guangzhou is supposed to be one of the best places in China for New Year celebrations. Some of the highlights include a drone show over the Pearl River and several flower fairs which are meant to be some of the best in the world. However, upon my arrival to Guangzhou I was greeted by a man wearing a surgical mask and holding a body temperature checker. I didn't really know what was going on at this point so I just thought it was China being China and carried on with my holiday. Little did I know that pretty much all of the big Spring Festival celebrations were being cancelled. Anyway, since Guangzhou is actually known as the 'Flower City' I decided to try and visit one of the fairs. I ended up going to the wrong part of town and arrived at a random park (Dafushan Forest Park) instead so, I decided to explore that. This was probably a blessing in disguise because I think most of the fairs got cancelled at the last minute anyway. The park was really nice and had some amazing scenery. I rented a bike and spent a few hours cycling through it hoping to see if the flower fair really was in this random park, it wasn't. The only downside to this park is that it's a bit out of the way. The nearest metro station is a 30-minute walk and I ended up having to walk through some random residential areas to reach the park.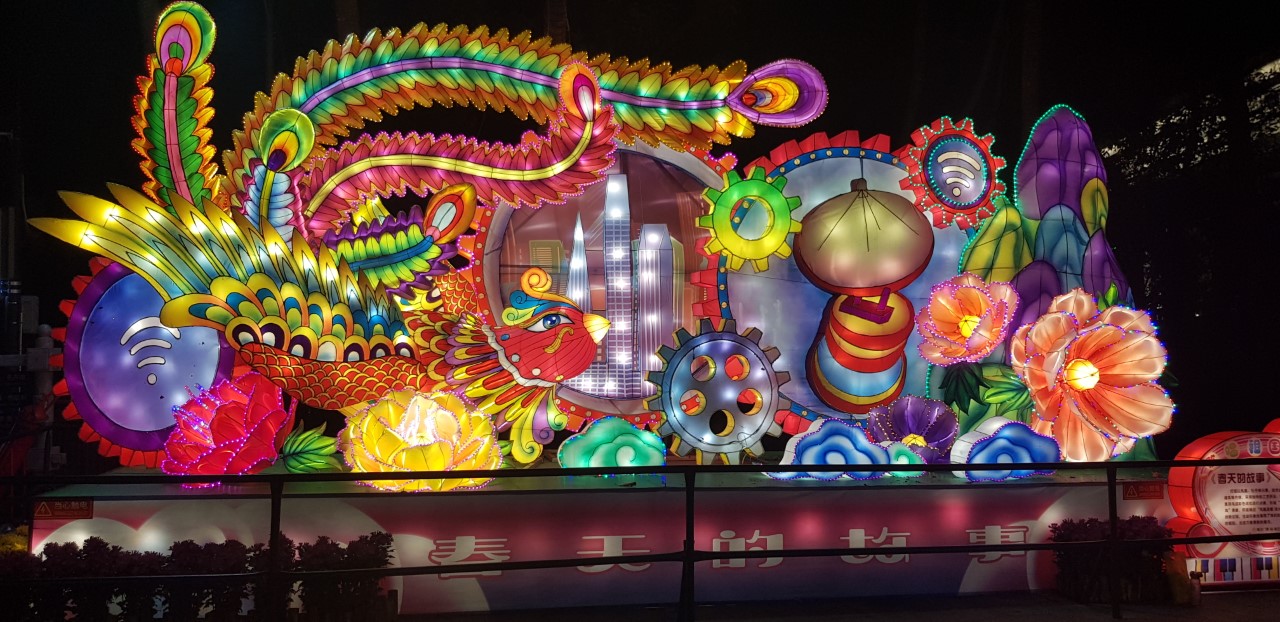 One thing I managed to find that wasn't cancelled was a Chinese lantern festival. It was being held at some park in the city and it only cost 30 Yuan (about £3.20) to get in. Once inside you were free to wonder around the park and look at all of the displays. Some of the lanterns looked absolutely incredible in the night time and there was such a wide variety of styles. There is actually a very similar festival held at Edinburgh Zoo from mid-November to the end of January that comes all the way from China, so if you happen to find yourself around Edinburgh over Christmas, definitely give it a visit. I also managed to visit this little island called Shamian Island which is located near the centre of Guangzhou. This small island actually used to be owned by the British and French, so you can see a lot of old European style buildings here. This is a really nice spot to spend a few hours as there are a few nice restaurants and bars here as well as some gardens dotted all over the island.
Hong Kong
I had planned on spending Chinese New Year in Hong Kong because they have a 3-day celebration which is supposed to be absolutely amazing. On the first day of the new year there is a big New Year parade where you can see traditional Chinese performances, floats and of course, dragons. Tens of thousands of people gather on the streets of Hong Kong to watch and celebrate. On the second day there is a massive fireworks display followed by a lights and laser show over Victoria Harbour. You can either go down and watch the display or hang out on one of the many rooftop venues that run alongside the harbour. The main festivities conclude with the annual New Year Horse Races. Supposedly the most popular horse racing event in the world, over 100,000 people normally come down to enjoy the races and watch the grand opening show along with various performances throughout the day. But I didn't get to do any of these things as they were all cancelled this year. Luckily for me Hong Kong still has plenty of alternative things to do. For being such a big and densely populated city Hong Kong is pretty amazing because you're only a short bus ride away from a ton of beautiful nature. I thought it would be a good idea to get out of the city for a day so I went for a hike along Dragon's Back. Dragon's Back is a hiking trail that is around 8.5km long and finishes up right on the beach. There are a few viewing platforms along the trail which can give you some absolutely breath-taking views on a clear day. The trek itself isn't too difficult so you don't have to be an athlete to do it and once you get to the end you can relax on the beach for a little bit and get the bus back into the city. I highly recommend this hike if you're ever in Hong Kong on a sunny day.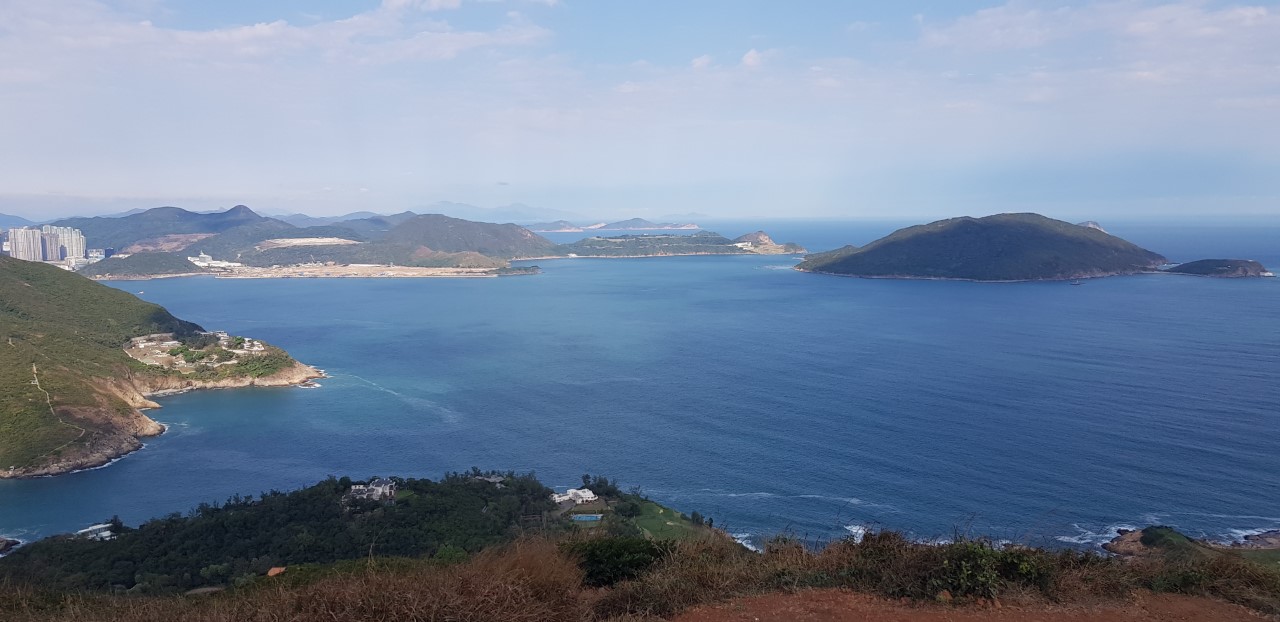 Another really cool place I visited was Victoria Peak. This is the highest peak on Hong Kong Island and is actually located on top of another hill. The best way to reach the bottom of the peak is by a special tram service which takes you right up the side of the first hill. It's truly an experience sitting on this tram which feels as though it's just going directly upwards because the hill is so steep. But if offers you a great view of the city on the way up. The tram drops you off at the top of the hill where there is a big shopping centre and several restaurants and if you're a monopoly fan there's also the world's first monopoly-themed attraction. The actual walk to the top of the peak only takes around 45 minutes so it's not too difficult at all. Unfortunately, it was extremely foggy when I went so I couldn't actually see anything, but I'm sure it probably has a good view.
Even though my travel plans were slightly disrupted due to the Coronavirus outbreak I still managed to enjoy Hong Kong and the days leading up to Spring Festival. Maybe I'll just have to come back again next year to see all of the celebrations in full. Next on my travels I will be escaping to the sunny, hot country of Thailand for a week.