Tens of thousand march 'for freedom' in Australian cities (VIDEOS)
Protesters thronged the streets of Australian cities on Saturday, demanding an end to what they called the "tyranny" and "oppression" of lockdowns, vaccine mandates, and the proposed expansion of the governments' pandemic powers. In Melbourne, Sky News reporter Sophie Elsworth described "tens of thousands of people streaming through the streets." The march in Melbourne came after a week of smaller protests, aimed at Victoria Premier Dan Andrews' controversial pandemic bill, which if approved by the state's legislature would allow Andrews and Health Minister Martin Foley to declare an indefinite state of emergency and issue public health orders by decree – including "any order … that the minister believes is reasonably necessary to protect public health."Tens of thousands of people keep streaming through the streets. Many I've spoken to are concerned about the state govt, Premier, vaccine mandates, the pandemic bill & what future holds for their kids. #melbourneprotestpic.twitter.com/smexulQ4ts— Sophie Elsworth (@sophieelsworth) November 20, 2021Should the bill pass, it would allow Andrews to target certain classes of people with these orders, dividing them by age, occupation, or vaccination status. Fines for noncompliance would range from up to AU$21,800 for people and AU$109,000 for businesses.Alternative media sources claimed that more than 100,000 people showed up to protest. However, the demonstration remained free of the violent clashes seen at protests in Melbourne in recent months."Australia has been willing to send troops to all parts of the world to help people become free," one military veteran told a crowd of listeners during the protest. "To now be fighting oppression here in our own country, it's saddening."Melbourne Australia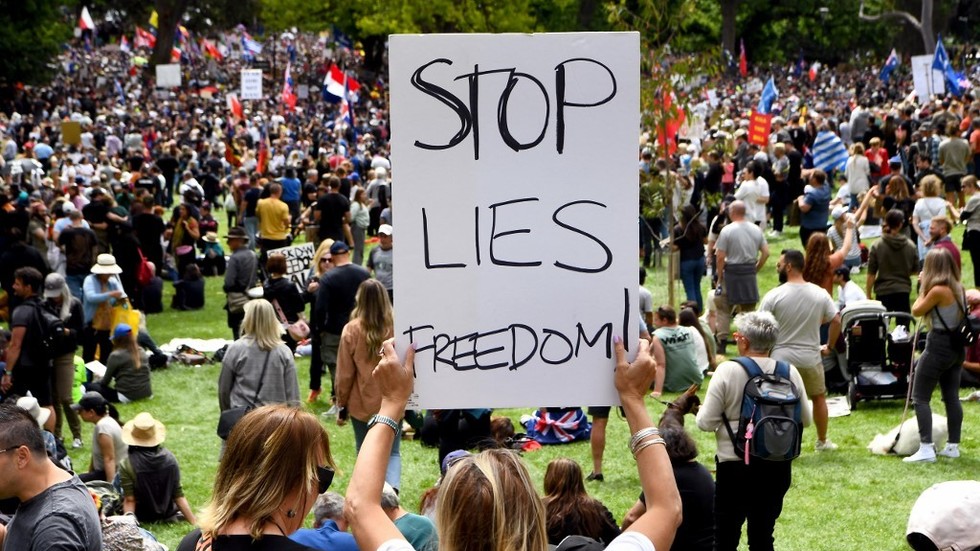 Protesters thronged the streets of Australian cities on Saturday, demanding an end to what they called the "tyranny" and "oppression" of lockdowns, vaccine mandates, and the proposed expansion of the governments' pandemic powers.
In Melbourne, Sky News reporter Sophie Elsworth described "tens of thousands of people streaming through the streets." The march in Melbourne came after a week of smaller protests, aimed at Victoria Premier Dan Andrews' controversial pandemic bill, which if approved by the state's legislature would allow Andrews and Health Minister Martin Foley to declare an indefinite state of emergency and issue public health orders by decree – including "any order … that the minister believes is reasonably necessary to protect public health."
Should the bill pass, it would allow Andrews to target certain classes of people with these orders, dividing them by age, occupation, or vaccination status. Fines for noncompliance would range from up to AU$21,800 for people and AU$109,000 for businesses.
Alternative media sources claimed that more than 100,000 people showed up to protest. However, the demonstration remained free of the violent clashes seen at protests in Melbourne in recent months.
"Australia has been willing to send troops to all parts of the world to help people become free," one military veteran told a crowd of listeners during the protest. "To now be fighting oppression here in our own country, it's saddening."