Spinach Wraps (Spinach Rolls)
Spinach wraps are delicious and healthy to serve for lunch or dinner. A savory spinach filling is loaded into tortilla or roti or your favorite wrap, then rolled and ready to enjoy. Here you'll find the step-by-step recipe with photos to make the best spinach rolls from scratch. About Spinach Wraps These tasty Indian-inspired spinach wraps feature sautéed spinach, aromatics, tomatoes, spices, and paneer cheese (swap easily with cottage cheese). This delicious mixture is rolled into soft roti or your choice of wrap, and served with chutneys or other sides. The wraps are vegetarian and healthy, while still having lots of vibrant and savory flavors. They are even perfect for getting picky kids to eat spinach! It is a good way to include healthy spinach greens in your diet. While I show you how to make whole wheat wraps in the step-by-step photo guide below, but feel free to use packaged wraps or tortilla. You can also make this recipe with Pita Bread or Naan Bread. Customize this recipe with your favorite fillings, and prepare for a hearty lunch or snack or a light dinner. Example, you can use tofu or button mushrooms instead of paneer. Step-by-Step Guide How to make Spinach Wrap Kneading Dough For Wraps 1. In a mixing bowl or pan or a large tray, take 2 cups whole wheat flour. Add 1 tablespoon oil and ½ teaspoon salt. 2. Then add ⅔ to ¾ cup of water in parts. First, you can add ½ cup water and add the remaining required amount of water later as you go on working on the dough. 3. Begin to knead. Add water as required and knead to a smooth soft dough. Remember that the dough should be soft and pliable. 4. Cover the dough with a kitchen towel or cover the bowl with a lid. Set aside for the dough to rest for 30 minutes. Preparing Spinach and Cheese Stuffing Meanwhile when the dough resting, make your spinach filling. 1. Begin by rinsing 130 grams of spinach leaves very well in water. Drain all of the water and then chop the spinach leaves. You will need 2 cups of chopped spinach. Also chop 1 medium-sized onion (½ cup finely chopped onions), 2 medium-sized tomatoes (½ cup finely chopped tomatoes, tightly packed) and 1 or 2 green chilies (½ to 1 teaspoon chopped). Set aside. 2. Crumble 200 grams paneer and keep aside. Instead of paneer, you can use cottage cheese or firm tofu. 3. Heat 2 tablespoons of oil in a pan. Add ½ teaspoon cumin seeds and 1 small tej patta. Skip if you do not have tej patta (Indian bay leaf). Sauté till the cumin crackles. Instead of oil, you can also use butter or ghee (clarified butter). 4. Now add ½ cup finely chopped onions. 5. Saute till the onions turn a light brown. 6. Add ½ teaspoon ginger-garlic paste. Stir and sauté for a few seconds till the raw aroma of both ginger and garlic goes away. 7. Then add ½ cup tightly packed finely chopped tomatoes and ½ to 1 teaspoon chopped green chilies. 8. Mix well and saute the tomatoes on low to medium heat. 9. Saute till the tomatoes soften and become mushy. 10. Then add ¼ teaspoon turmeric powder and ¼ teaspoon red chili powder or cayenne pepper. Mix very well. 11. Add the chopped spinach leaves. 12. Mix the spinach leaves very well with the sautéed onion-tomato mixture. 13. Cover the pan with a lid and on a low heat simmer till the spinach leaves wilt. 14. Do check a couple of times when the spinach is cooking. Once the spinach leaves are wilted and cooked, you will see some water or liquids in the pan. 15. On low to medium heat, cook without the lid till all the water or liquids evaporates. 16. Then add the crumbled paneer or cottage cheese. Also add salt according to taste. 17. Add ¼ teaspoon garam masala powder or curry powder. 18. Mix very well and sauté for 1 minute on low heat. Do not cook too much as then the paneer will get chewy or dense. Making Roti Wrap 1. After 30 minutes, divide the dough into small or medium-sized balls. This depends on the size of the wraps you want to make. You can also make mini wraps. Skip this section if you are using packaged wraps or tortilla. 2. Dust the dough ball with some flour. 3. Then gently roll to thin round or circle. The rolled dough should not be thick. If required while rolling, you can add some more flour. 4. Place the rolled dough on a hot skillet or tawa or frying pan. Do note that the skillet should be hot. So cook on medium-high to high heat. On low heat, the roti will become crispy and hard. 5. Cook the base till you see air-pockets appearing on the roti or the roti is ¼ cooked. 6. Then flip it w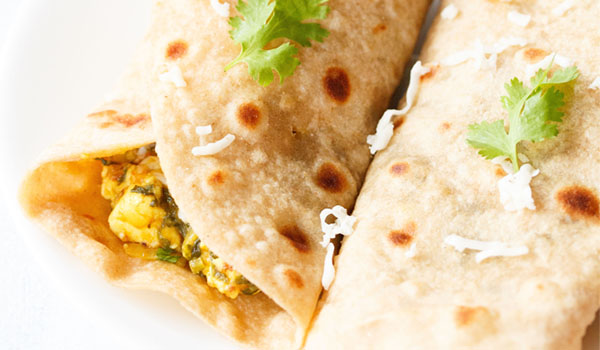 Spinach wraps are delicious and healthy to serve for lunch or dinner. A savory spinach filling is loaded into tortilla or roti or your favorite wrap, then rolled and ready to enjoy. Here you'll find the step-by-step recipe with photos to make the best spinach rolls from scratch.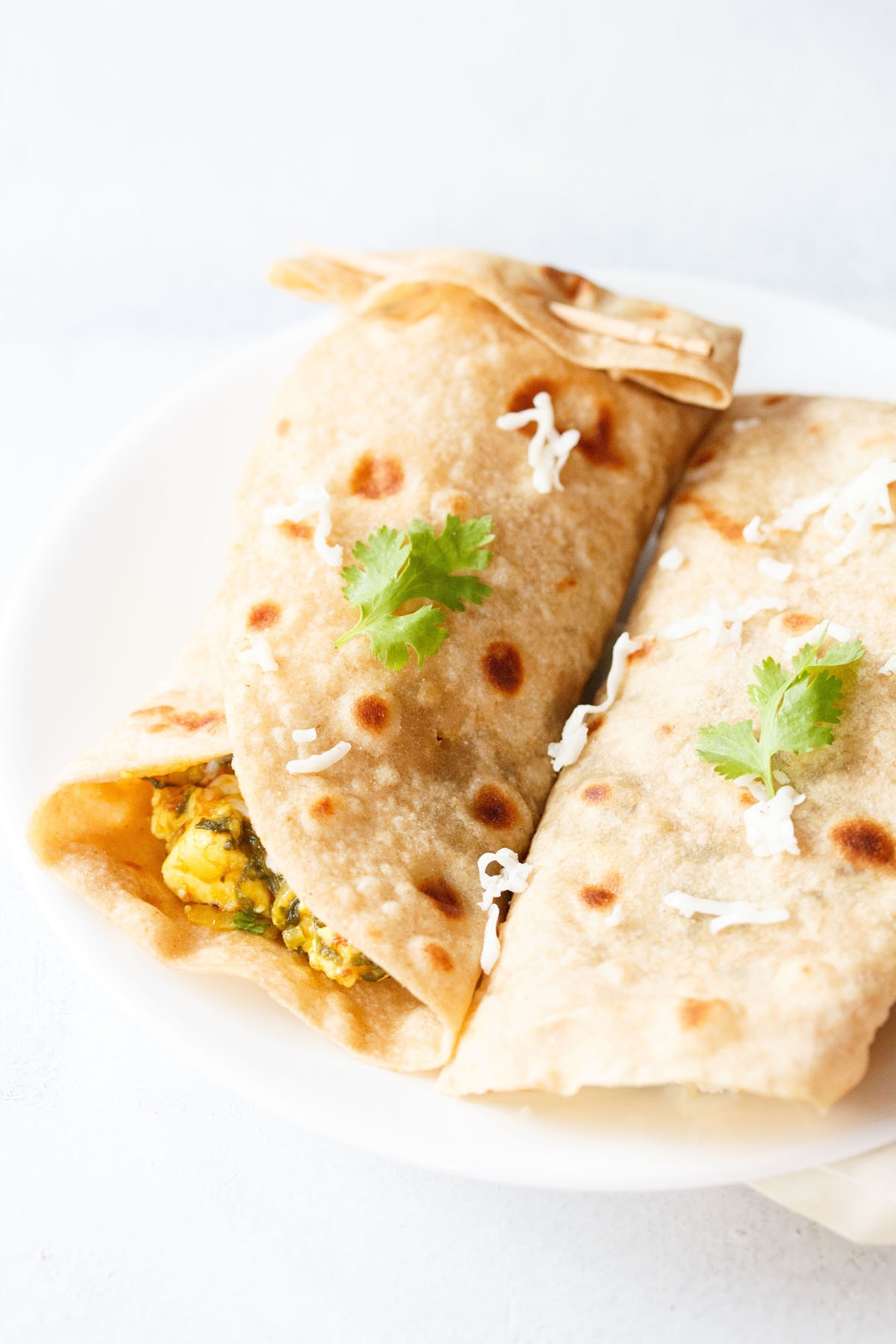 About Spinach Wraps
These tasty Indian-inspired spinach wraps feature sautéed spinach, aromatics, tomatoes, spices, and paneer cheese (swap easily with cottage cheese). This delicious mixture is rolled into soft roti or your choice of wrap, and served with chutneys or other sides.
The wraps are vegetarian and healthy, while still having lots of vibrant and savory flavors. They are even perfect for getting picky kids to eat spinach! It is a good way to include healthy spinach greens in your diet.
While I show you how to make whole wheat wraps in the step-by-step photo guide below, but feel free to use packaged wraps or tortilla. You can also make this recipe with Pita Bread or Naan Bread.
Customize this recipe with your favorite fillings, and prepare for a hearty lunch or snack or a light dinner. Example, you can use tofu or button mushrooms instead of paneer.
Step-by-Step Guide
How to make Spinach Wrap
Kneading Dough For Wraps
1. In a mixing bowl or pan or a large tray, take 2 cups whole wheat flour. Add 1 tablespoon oil and ½ teaspoon salt.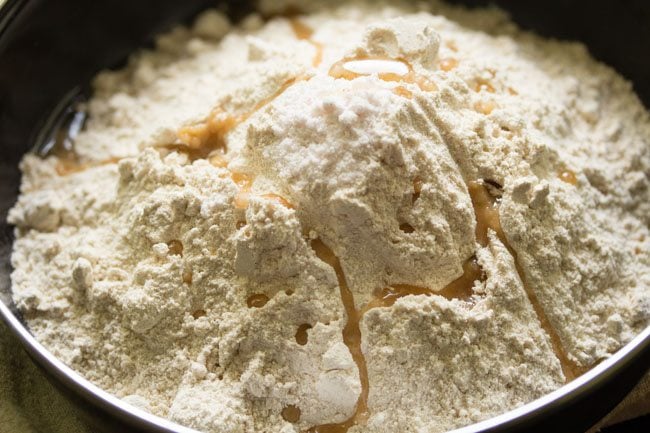 2. Then add ⅔ to ¾ cup of water in parts. First, you can add ½ cup water and add the remaining required amount of water later as you go on working on the dough.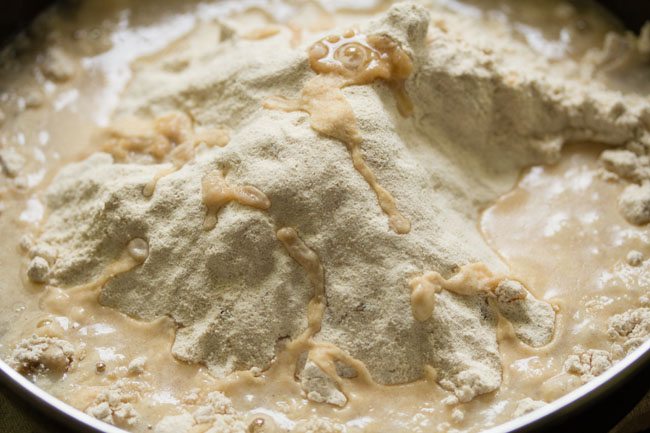 3. Begin to knead. Add water as required and knead to a smooth soft dough. Remember that the dough should be soft and pliable.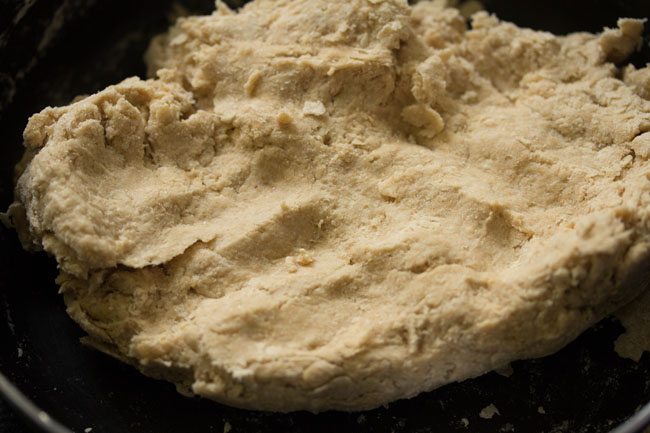 4. Cover the dough with a kitchen towel or cover the bowl with a lid. Set aside for the dough to rest for 30 minutes.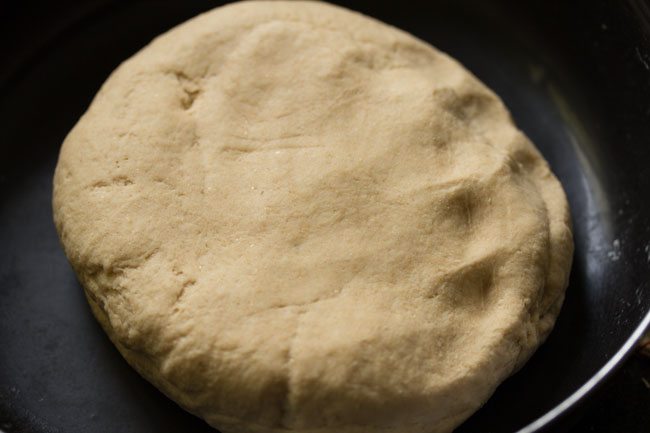 Preparing Spinach and Cheese Stuffing
Meanwhile when the dough resting, make your spinach filling.
1. Begin by rinsing 130 grams of spinach leaves very well in water. Drain all of the water and then chop the spinach leaves. You will need 2 cups of chopped spinach.
Also chop 1 medium-sized onion (½ cup finely chopped onions), 2 medium-sized tomatoes (½ cup finely chopped tomatoes, tightly packed) and 1 or 2 green chilies (½ to 1 teaspoon chopped). Set aside.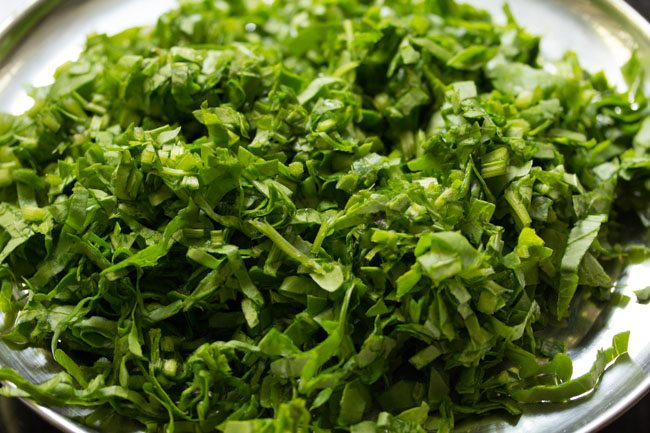 2. Crumble 200 grams paneer and keep aside. Instead of paneer, you can use cottage cheese or firm tofu.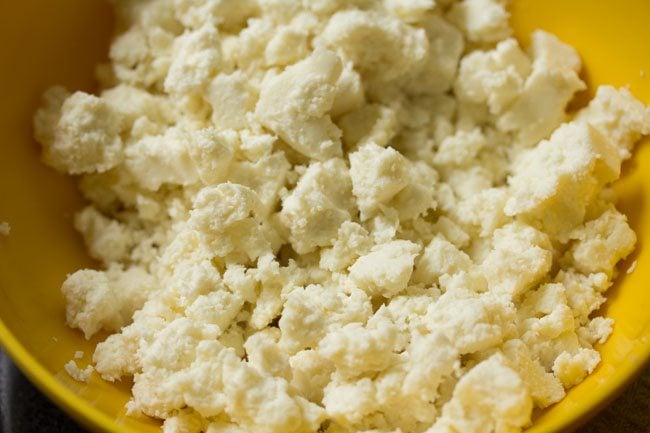 3. Heat 2 tablespoons of oil in a pan. Add ½ teaspoon cumin seeds and 1 small tej patta. Skip if you do not have tej patta (Indian bay leaf).
Sauté till the cumin crackles. Instead of oil, you can also use butter or ghee (clarified butter).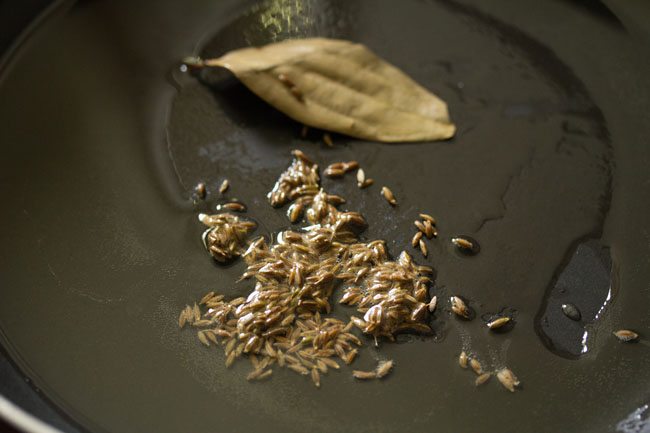 4. Now add ½ cup finely chopped onions.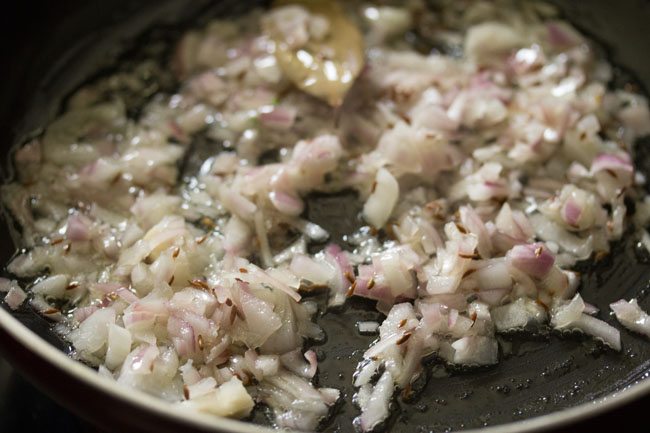 5. Saute till the onions turn a light brown.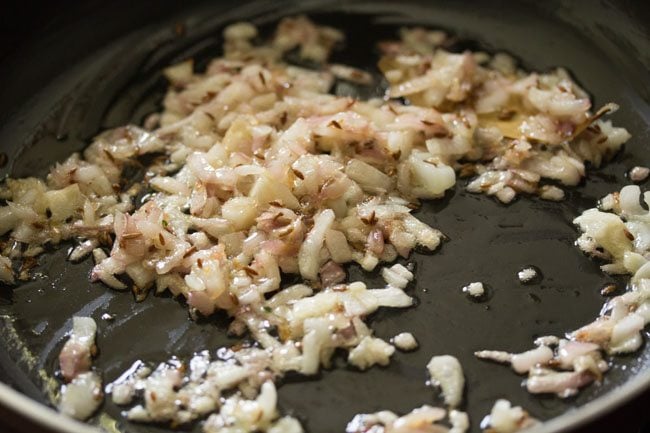 6. Add ½ teaspoon ginger-garlic paste. Stir and sauté for a few seconds till the raw aroma of both ginger and garlic goes away.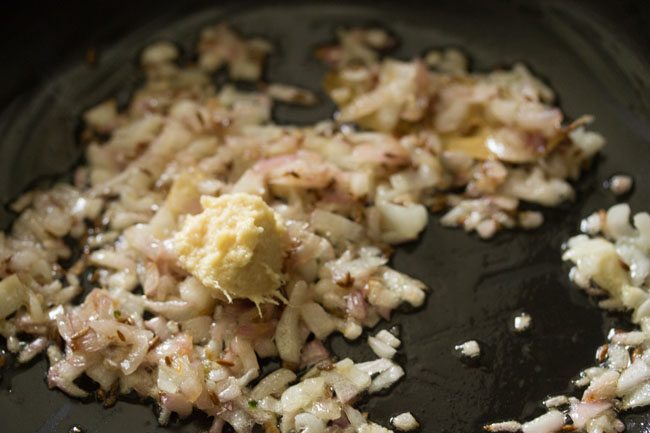 7. Then add ½ cup tightly packed finely chopped tomatoes and ½ to 1 teaspoon chopped green chilies.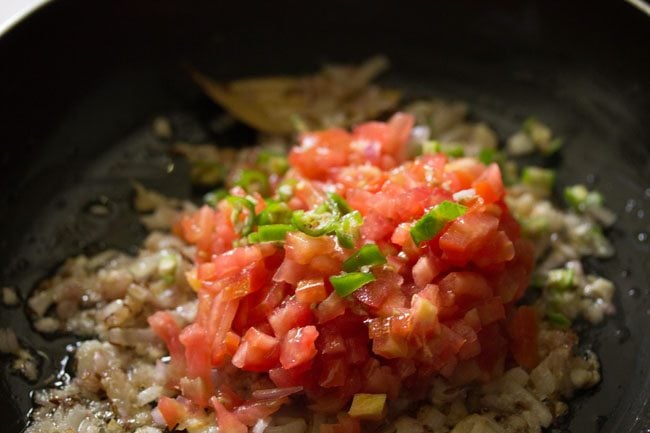 8. Mix well and saute the tomatoes on low to medium heat.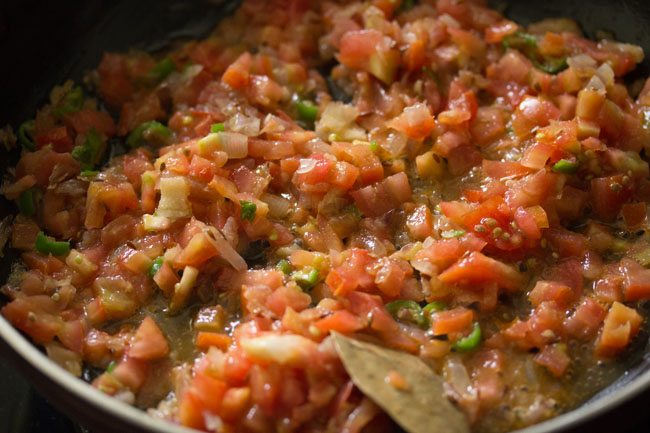 9. Saute till the tomatoes soften and become mushy.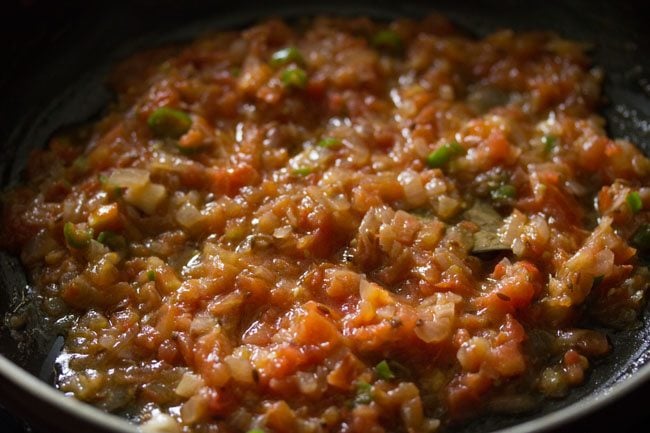 10. Then add ¼ teaspoon turmeric powder and ¼ teaspoon red chili powder or cayenne pepper. Mix very well.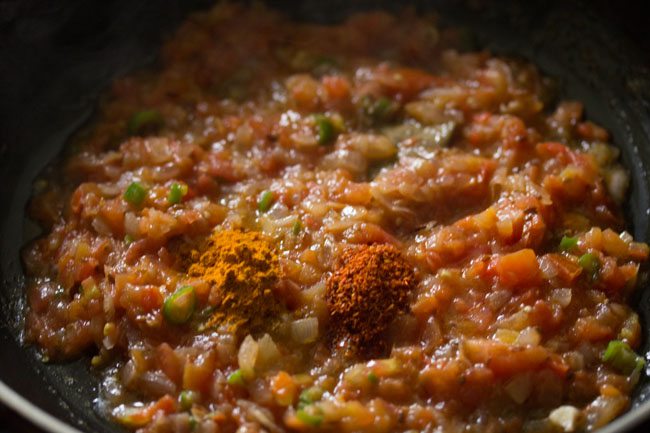 11. Add the chopped spinach leaves.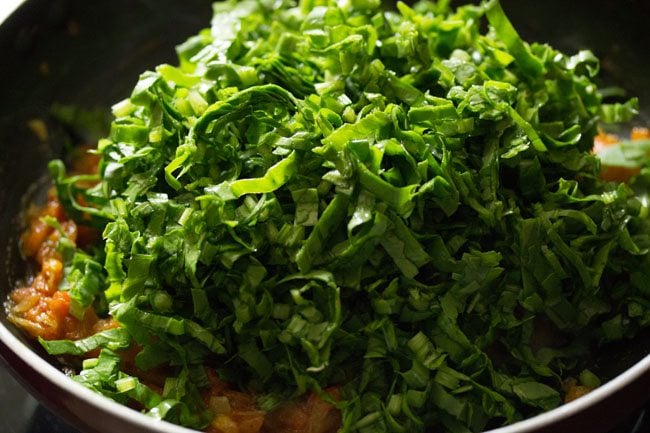 12. Mix the spinach leaves very well with the sautéed onion-tomato mixture.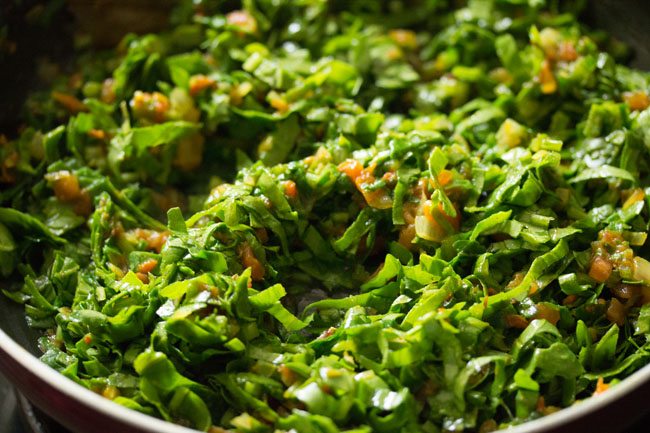 13. Cover the pan with a lid and on a low heat simmer till the spinach leaves wilt.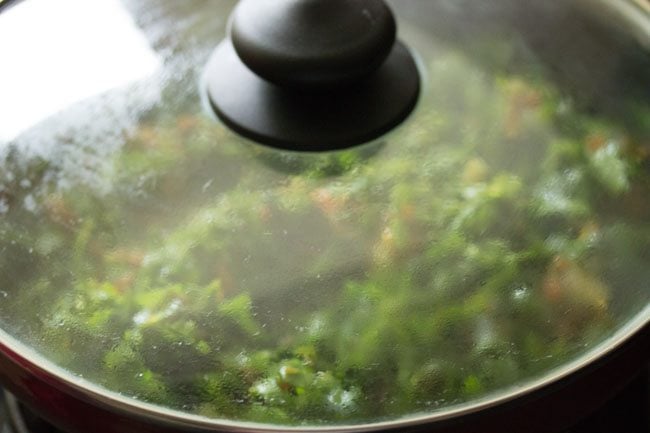 14. Do check a couple of times when the spinach is cooking. Once the spinach leaves are wilted and cooked, you will see some water or liquids in the pan.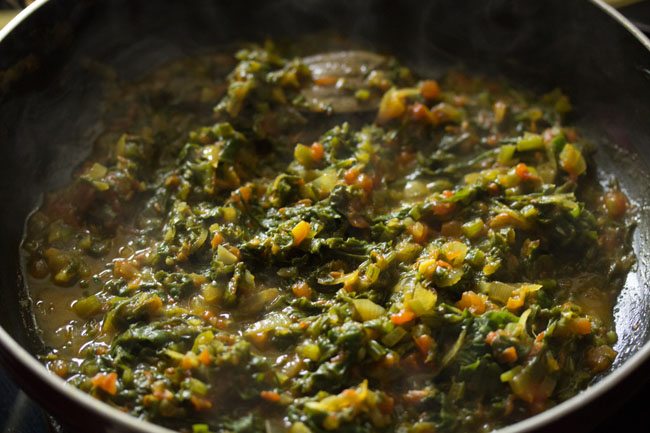 15. On low to medium heat, cook without the lid till all the water or liquids evaporates.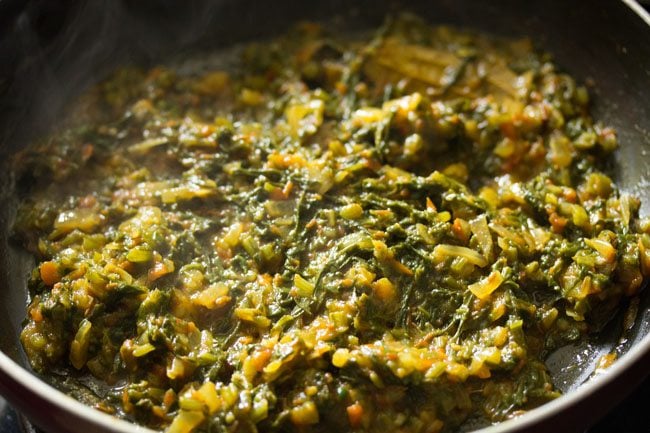 16. Then add the crumbled paneer or cottage cheese. Also add salt according to taste.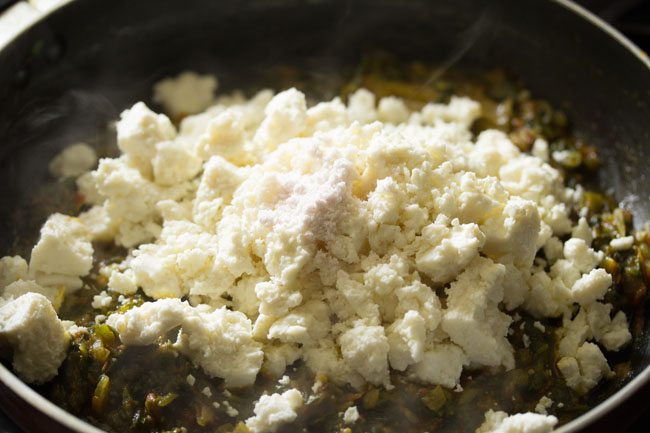 17. Add ¼ teaspoon garam masala powder or curry powder.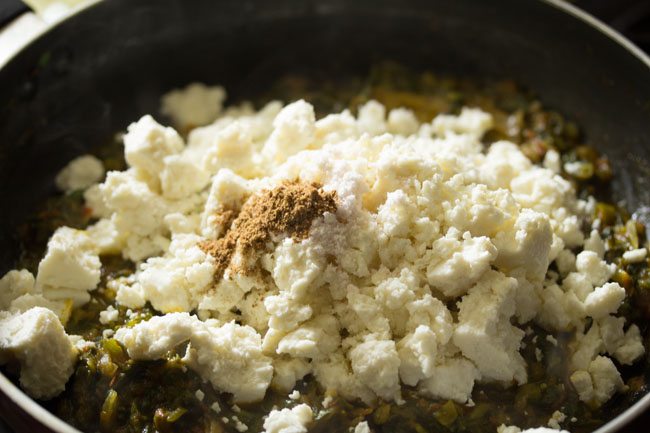 18. Mix very well and sauté for 1 minute on low heat. Do not cook too much as then the paneer will get chewy or dense.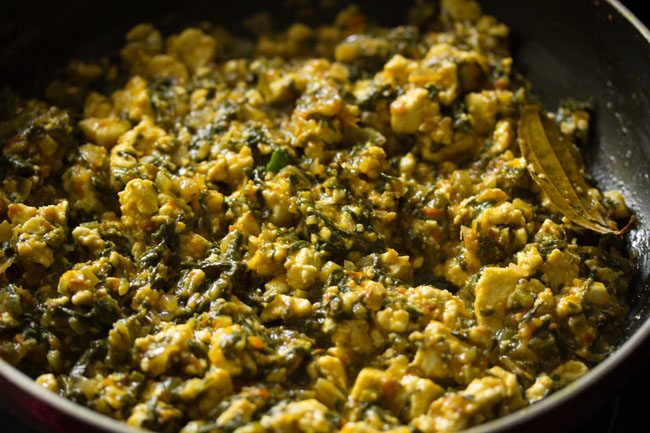 Making Roti Wrap
1. After 30 minutes, divide the dough into small or medium-sized balls. This depends on the size of the wraps you want to make. You can also make mini wraps. Skip this section if you are using packaged wraps or tortilla.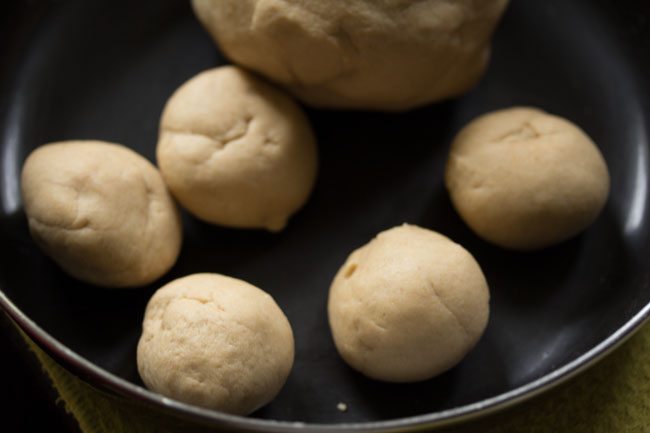 2. Dust the dough ball with some flour.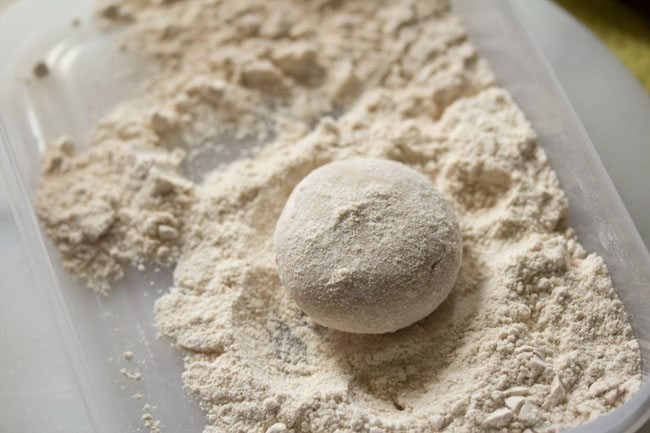 3. Then gently roll to thin round or circle. The rolled dough should not be thick. If required while rolling, you can add some more flour.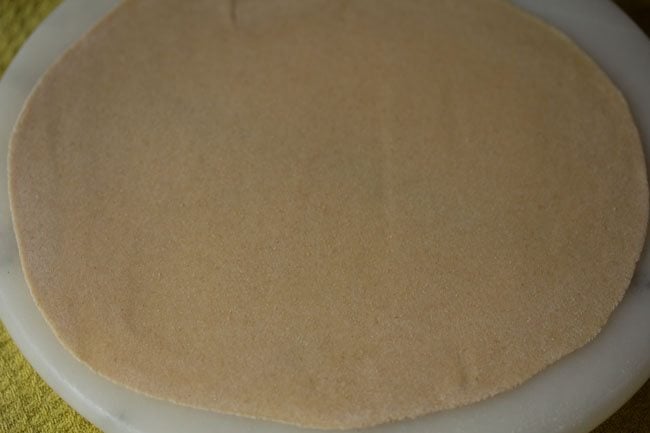 4. Place the rolled dough on a hot skillet or tawa or frying pan. Do note that the skillet should be hot. So cook on medium-high to high heat. On low heat, the roti will become crispy and hard.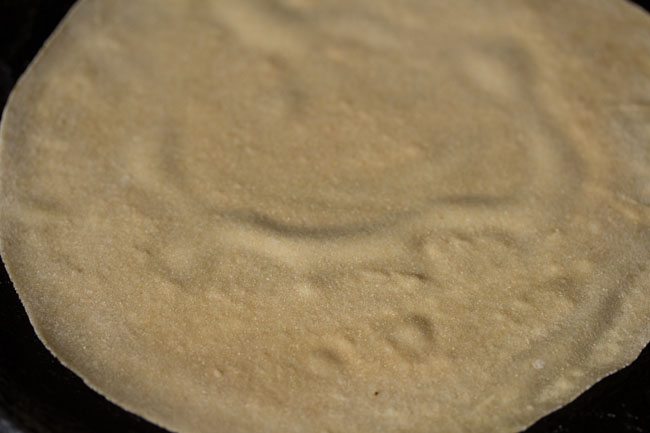 5. Cook the base till you see air-pockets appearing on the roti or the roti is ¼ cooked.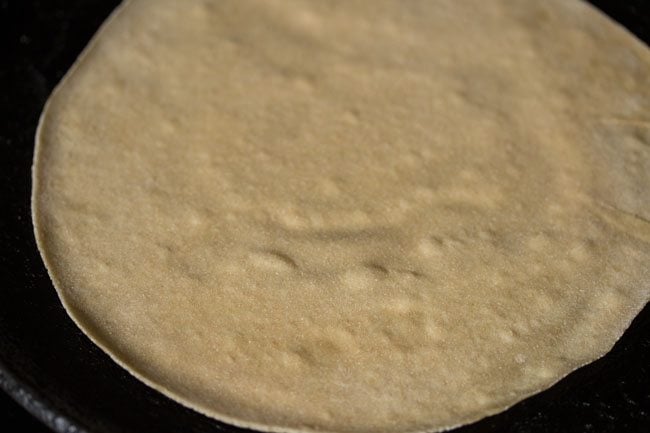 6. Then flip it with a spatula.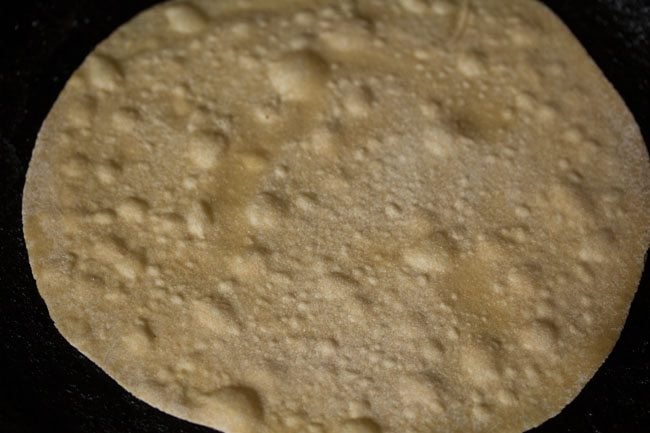 7. Spread some oil all over.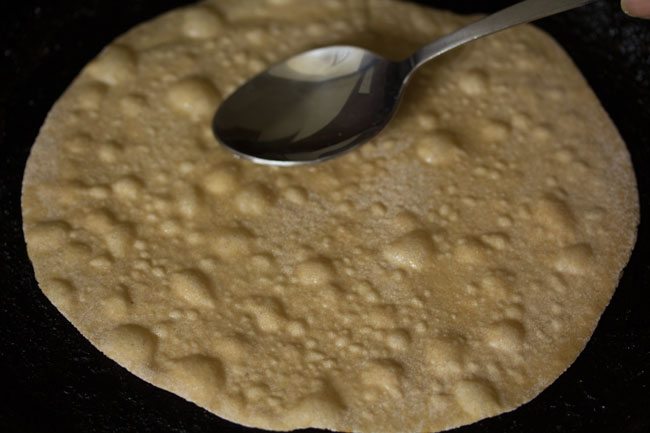 8. Then flip again when the second side is ½ cooked. Spread some oil on this side too. You will see golden blisters.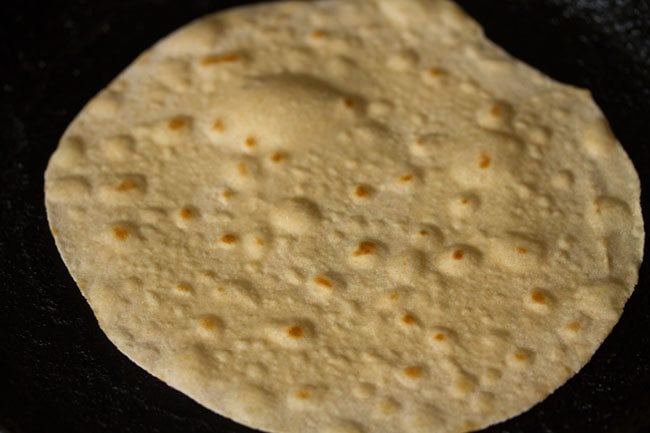 9. Flip once or twice more for even roasting. Remove and keep the roti in a roti basket or in a warm casserole. Prepare all the roti wraps this way.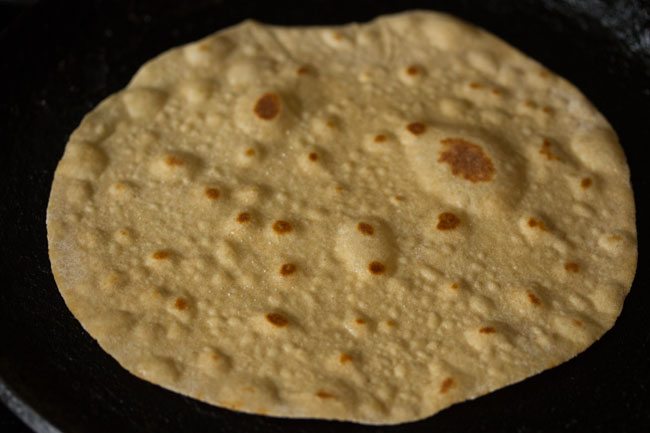 Preparing Spinach Wraps
1. Now take a roti.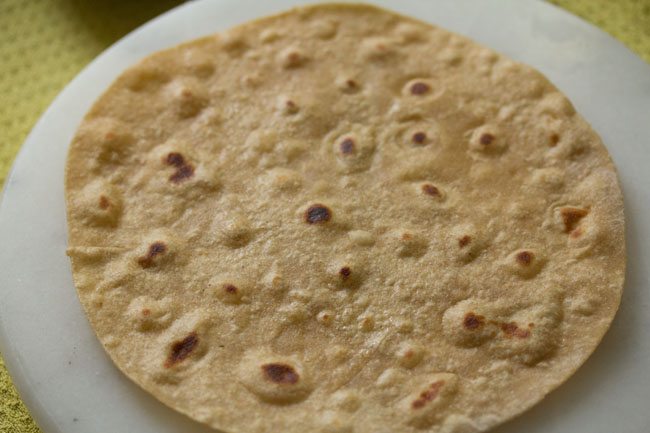 2. Place the spinach stuffing in the center. If you have mint cilantro chutney, you can also spread some chutney on the roti, before placing the spinach stuffing.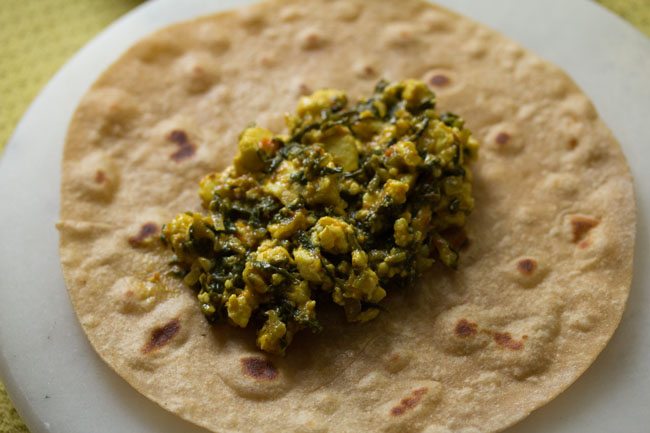 3. Add some thinly sliced onions or pickled onions. You can even skip onions. You can also add some grated carrots or shredded beets instead of onions. To make the filling spicy, jalapeño slices are also an option.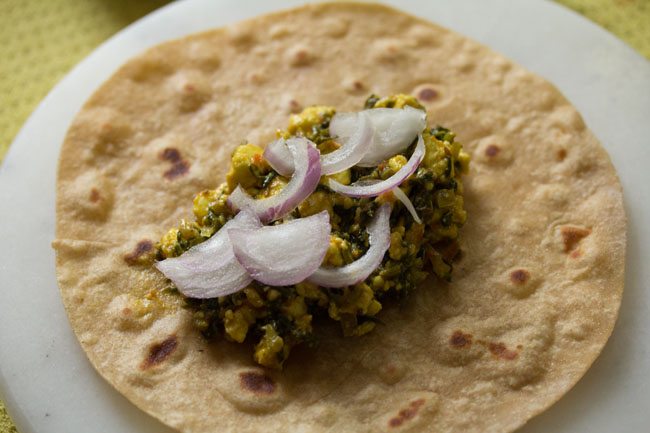 4. Top up with some grated cheddar cheese. You can use any cheese like cheddar cheese or processed cheese.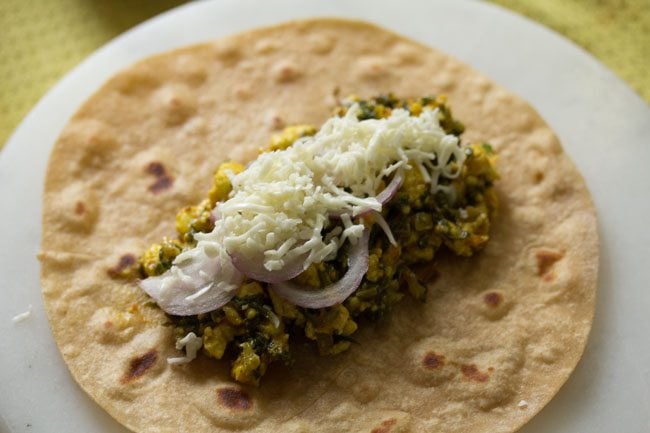 5. Then add some chopped coriander leaves (cilantro) on top of the cheese.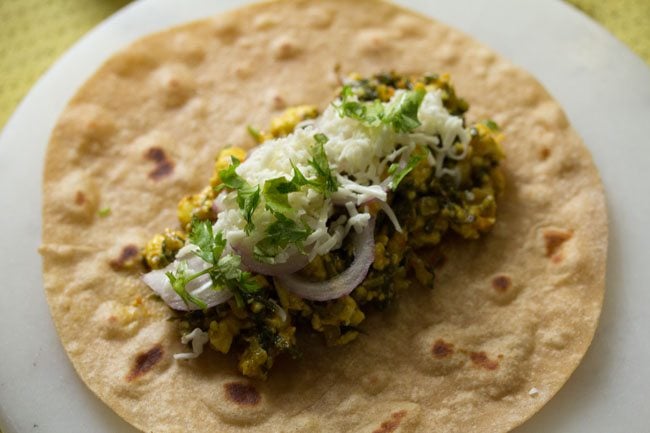 6. Sprinkle some chaat masala powder and a few drops of lemon juice. Both chaat masala and lemon juice give a really good tangy taste, so do not skip them.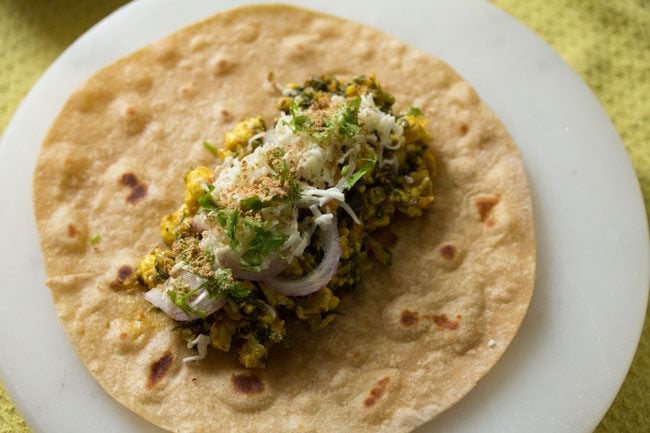 7. Now roll one side of the roti. Roll the second side overlapping the first side.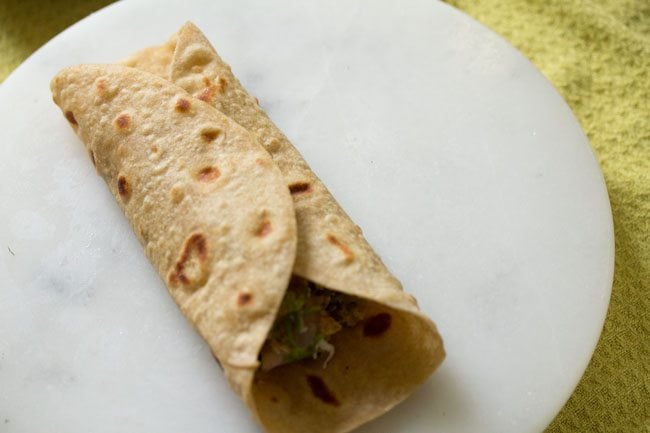 8. Then fold one of the sides and secure it with a toothpick.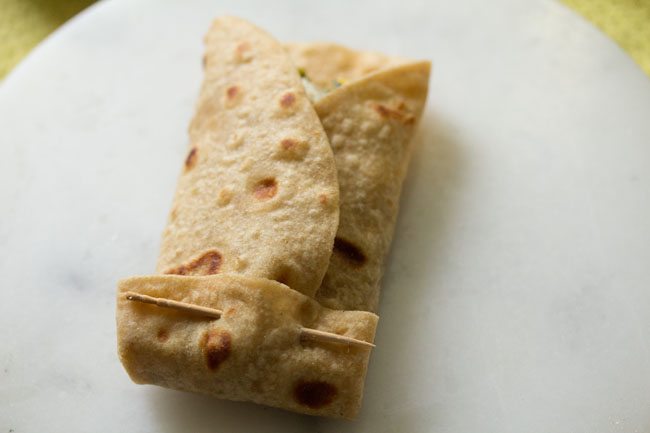 9. Secure the other open side also with a toothpick. If you want, you can also wrap them like an envelope and then serve them. You can also close the second side if you want.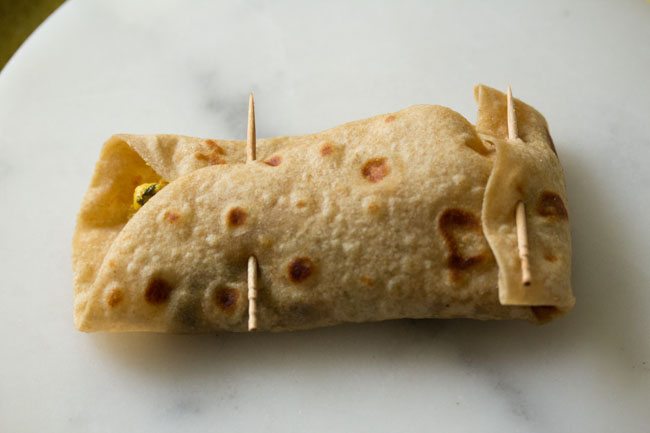 10. Serve immediately. As the spinach stuffing is slightly moist. If served after some time or a few hours, then the rotis can become slightly soggy.
Serve spinach rolls just plain as they taste good the way they are. Or you can accompany some chutney or any dip of your choice by the side.
You can garnish with some grated cheddar cheese and chopped coriander leaves if you prefer.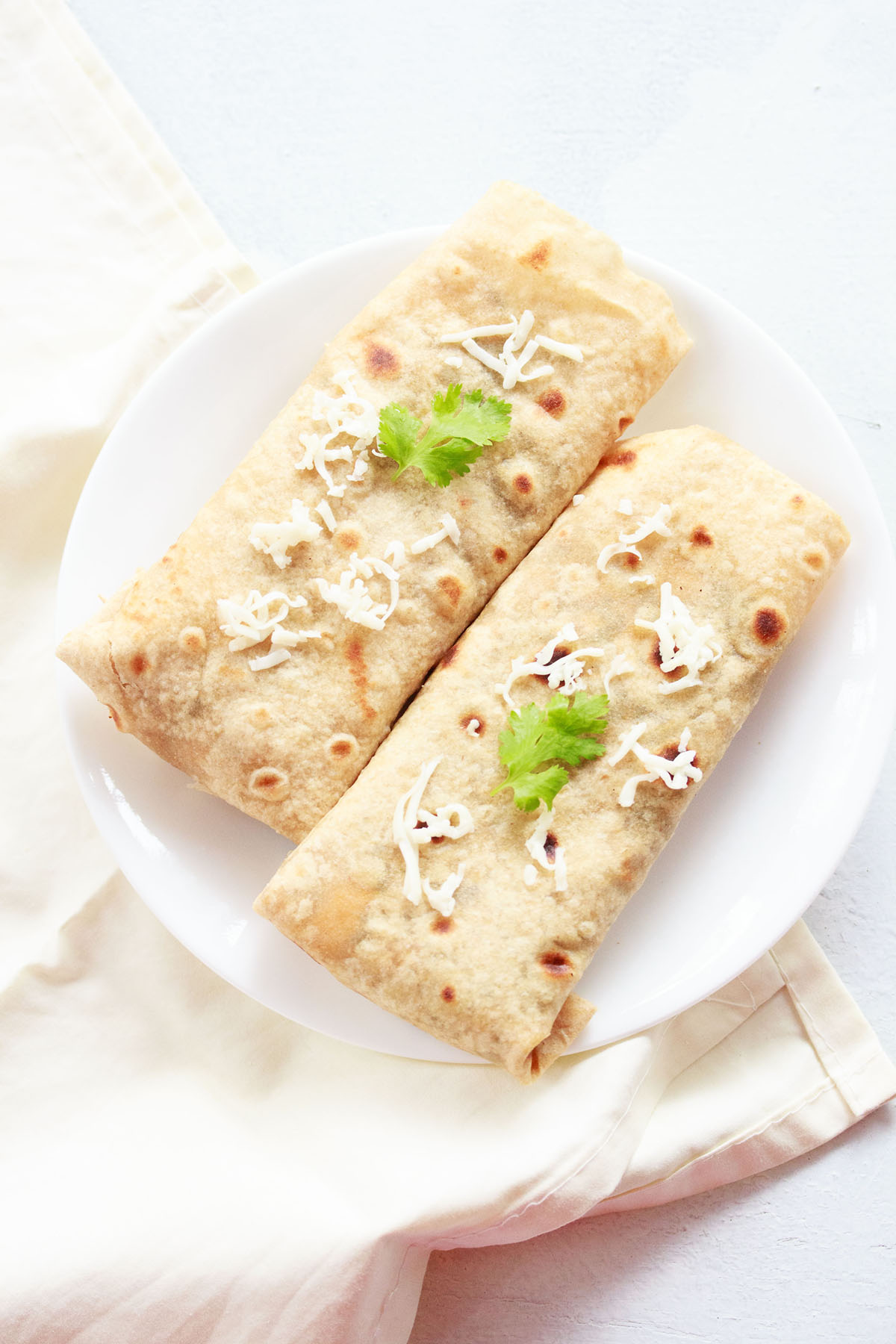 FAQs
What flour is best to make roti?
I use just whole wheat flour (atta) in this recipe, but you can use a 50/50 mix of whole wheat and all-purpose flour if you like.
How can I make the spinach mixture as a dry filling?
The tomatoes in this recipe add a good bit of moisture to the spinach wraps filling. Leave them out for a drier filling.
How do I make this a dairy-free vegan spinach wrap recipe?
Feel free to skip the paneer and use crumbled firm tofu as a tasty vegan substitute.
Can I prepare this as a make ahead dish?
To cut down on time, you can certainly make part of this recipe ahead. Make the roti dough the day before and store the dough in an air-tight container in the fridge until ready to use. Next day let the dough come to room temperature before making the wraps. The spinach filling is easy to make the day you plan to enjoy.
What other breads can I use to wrap the spinach rolls?
I prefer roti, but you can make spinach wraps with wheat or corn tortillas, pita bread, or naan bread.
What should I serve with healthy spinach wraps?
They are delicious plain by themselves, or you can enjoy them with your favorite chutneys or sauces.