Quick and Easy Coconut Rice
This website may contain affiliate links and advertising so that we can provide recipes to you. Read my privacy policy.This coconut rice is now going to be one of your go-to side dishes! Fluffed to perfection this rice is SO GOOD and is super easy to make! Every dish needs some delicious rice to go with it! Try serving it with this Jerk Chicken, Baked Coconut Shrimp, or even this delicious Cilantro Lime Butter Salmon. I love them all! Coconut Rice This coconut rice is insanely delicious! It has the perfect subtle hint of coconut flavor. You can taste it but it doesn't take over. This is why this is going to become your go-to side dish! This pairs so perfectly with shrimp, chicken, and especially anything that has a cilantro-lime flavor! It complements just about everything and is a fun twist on your classic white rice! Luckily, this recipe not only tastes amazing but it is SO easy to make!! If you have a few extra minutes before your meal then you should definitely be making this coconut rice! It's got the perfect taste and texture from using only 5 ingredients. Plus, it only takes about 15 minutes to make! So there really isn't any excuse to put off making this! Start now and then you will have the best go-to side dish for everything! Ingredients You Will Need to Make Coconut Rice This recipe only uses 5 (yes 5!) ingredients to make this amazing rice! Try it once and then you will never go back to regular rice. See the recipe card below for a list of exact ingredient measurements. Jasmine rice: Jasmine rice is a MUST because it brings out the most flavor!Coconut milk: Just grab a can of come coconut milk at the store and you will be all set! Coconut water: Using coconut water instead of regular water helps to bring forth that subtle coconut flavor a bit more. Sugar: Since coconut is not too sweet naturally, this tiny bit of sugar brings just the right amout to the flavor! Salt: Salt is used to enhance the taste all of the other flavors and ingredients. Let's Make Some Rice! Set aside 15 minutes for this side dish and you will be good to go! It goes with just about everything so go ahead and give it a try. You'll love it! Mix ingredients: In a medium sized sauce pan combine jasmine rice, coconut milk, water, sugar and salt.Boil, reduce heat and cover: Bring to a boil and reduce heat to low and then cover it for 12-14 minutes or until rice is tender and liquid is absorbed. Mix-in and Topping Ideas This tried and true coconut rice can be mixed with so many different things. You can use it as a side dish OR you can add in a few other ingredients and then eat it just like that! I have come up with a few ideas that you can start with! Sliced almonds: Any nuts will work but I especially love almonds with rice. Peppers: Orange, red or yellow peppers are the best with this rice!Beans: Mix this with some black beans or pinto beans and combine different textures. Toasted coconut: Coconut rice isn't naturally sweet like you would think. Add in some sweetened toasted coconut and make this dish sweet instead of savory.Avocado: Mixing in avocado not only will add in a creamy texture but its so healthy for you!Cilantro: Adding cilantro to rice is always a good idea! How to Store Leftovers This rice is great for leftovers! Store this in your fridge in an airtight container and then it will last for 3-4 days. All that you have to do is reheat it in the microwave until it's warm! You can use it for lunches or dinners all week long! Main Dishes to Serve with Coconut RiceCoconut rice is a fantastic side that goes with so many things! You can add in some mix ins and eat it on its own OR you could try a few of these recipes to go with it. There are so many different options that I had a hard time narrowing it down! But start here and after you've tried it a few times then branch out and try a few more! Make it your own, you are going to love it! In a medium sized sauce pan combine jasmine rice, coconut milk, water, sugar and salt.Bring to a boil and reduce heat to low and cover for 12-14 minutes or until rice is tender and liquid is absorbed. Serves: 6 Calories236kcal (12%)Carbohydrates51g (17%)Protein5g (10%)Fat1g (2%)Saturated Fat1g (5%)Polyunsaturated Fat1gMonounsaturated Fat1gSodium249mg (10%)Potassium196mg (6%)Fiber1g (4%)Sugar2g (2%)Vitamin C1mg (1%)Calcium29mg (3%)Iron1mg (6%) All nutritional information is based on third party calculations and is only an estimate. Each recipe and nutritional value will vary depending on the brands you use, measuring methods and portion sizes per household. Course Side DishCuisine American, MexicanKeyword coconut rice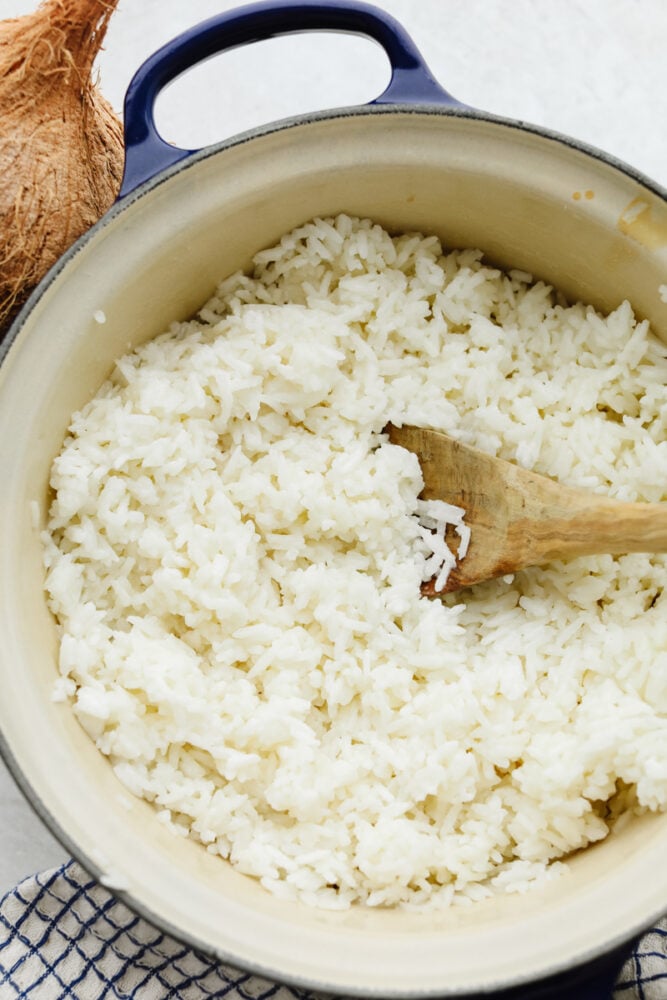 This coconut rice is now going to be one of your go-to side dishes! Fluffed to perfection this rice is SO GOOD and is super easy to make!
Every dish needs some delicious rice to go with it! Try serving it with this Jerk Chicken, Baked Coconut Shrimp, or even this delicious Cilantro Lime Butter Salmon. I love them all!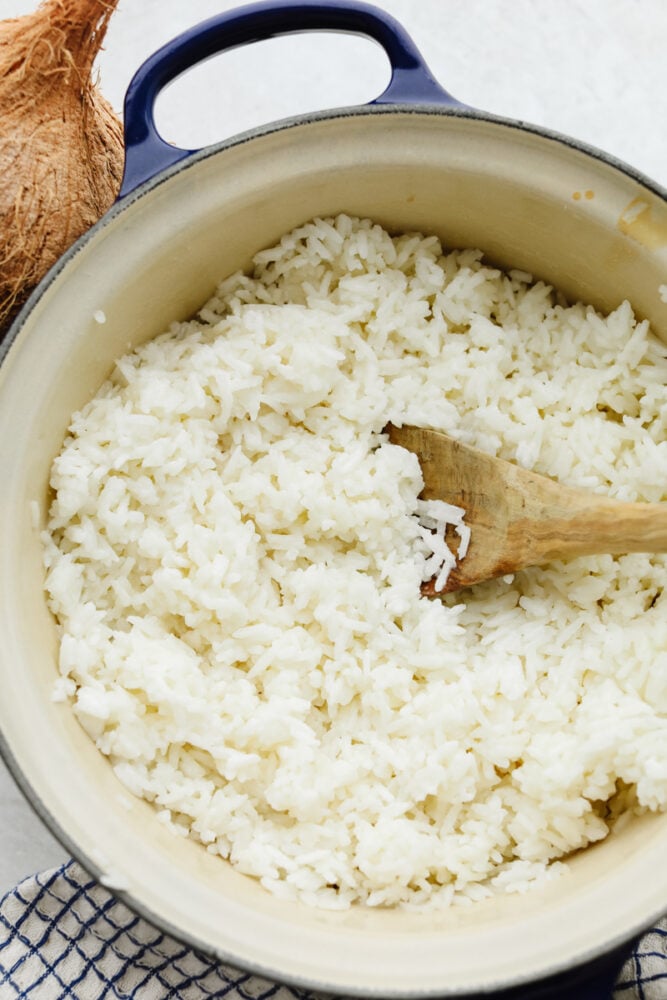 Coconut Rice
This coconut rice is insanely delicious! It has the perfect subtle hint of coconut flavor. You can taste it but it doesn't take over. This is why this is going to become your go-to side dish! This pairs so perfectly with shrimp, chicken, and especially anything that has a cilantro-lime flavor! It complements just about everything and is a fun twist on your classic white rice!
Luckily, this recipe not only tastes amazing but it is SO easy to make!! If you have a few extra minutes before your meal then you should definitely be making this coconut rice! It's got the perfect taste and texture from using only 5 ingredients. Plus, it only takes about 15 minutes to make! So there really isn't any excuse to put off making this! Start now and then you will have the best go-to side dish for everything!
Ingredients You Will Need to Make Coconut Rice
This recipe only uses 5 (yes 5!) ingredients to make this amazing rice! Try it once and then you will never go back to regular rice. See the recipe card below for a list of exact ingredient measurements.
Jasmine rice: Jasmine rice is a MUST because it brings out the most flavor!
Coconut milk: Just grab a can of come coconut milk at the store and you will be all set!
Coconut water: Using coconut water instead of regular water helps to bring forth that subtle coconut flavor a bit more.
Sugar: Since coconut is not too sweet naturally, this tiny bit of sugar brings just the right amout to the flavor!
Salt: Salt is used to enhance the taste all of the other flavors and ingredients.
Let's Make Some Rice!
Set aside 15 minutes for this side dish and you will be good to go! It goes with just about everything so go ahead and give it a try. You'll love it!
Mix ingredients: In a medium sized sauce pan combine jasmine rice, coconut milk, water, sugar and salt.
Boil, reduce heat and cover: Bring to a boil and reduce heat to low and then cover it for 12-14 minutes or until rice is tender and liquid is absorbed.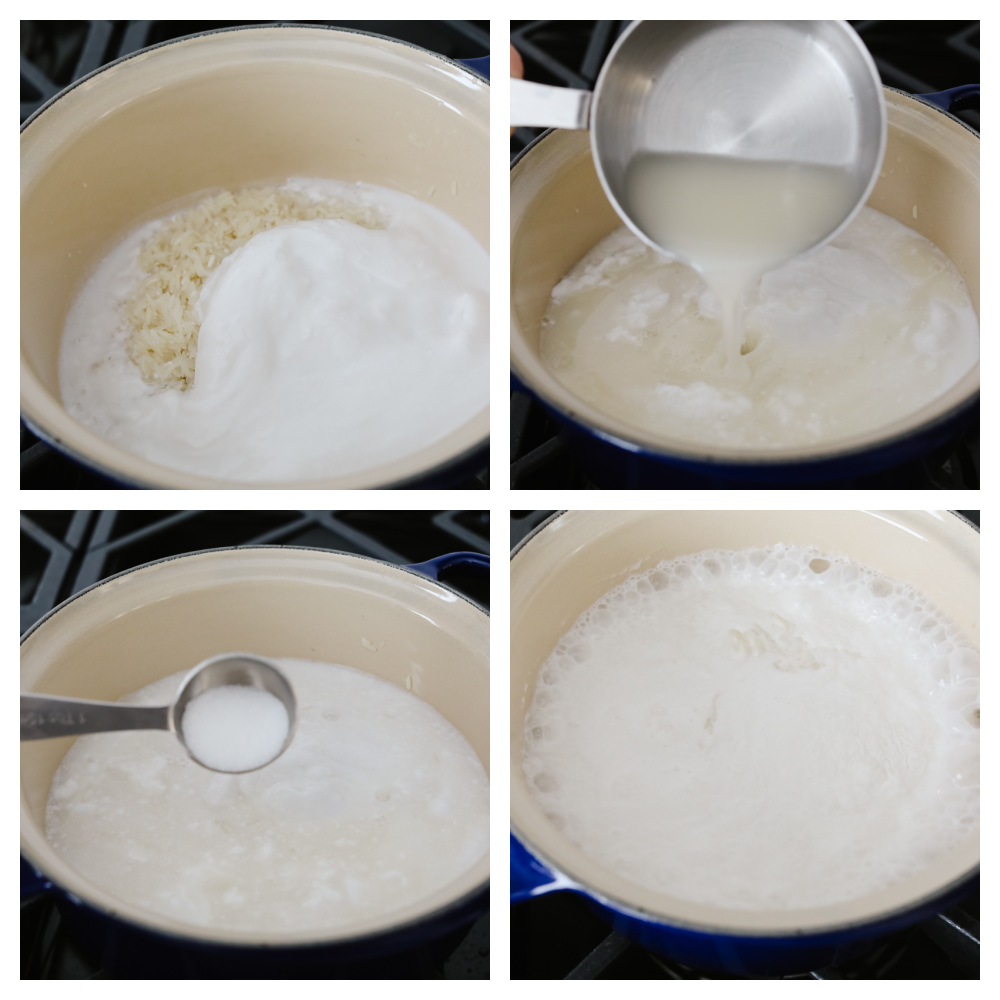 Mix-in and Topping Ideas
This tried and true coconut rice can be mixed with so many different things. You can use it as a side dish OR you can add in a few other ingredients and then eat it just like that! I have come up with a few ideas that you can start with!
Sliced almonds: Any nuts will work but I especially love almonds with rice.
Peppers: Orange, red or yellow peppers are the best with this rice!
Beans: Mix this with some black beans or pinto beans and combine different textures.
Toasted coconut: Coconut rice isn't naturally sweet like you would think. Add in some sweetened toasted coconut and make this dish sweet instead of savory.
Avocado: Mixing in avocado not only will add in a creamy texture but its so healthy for you!
Cilantro: Adding cilantro to rice is always a good idea!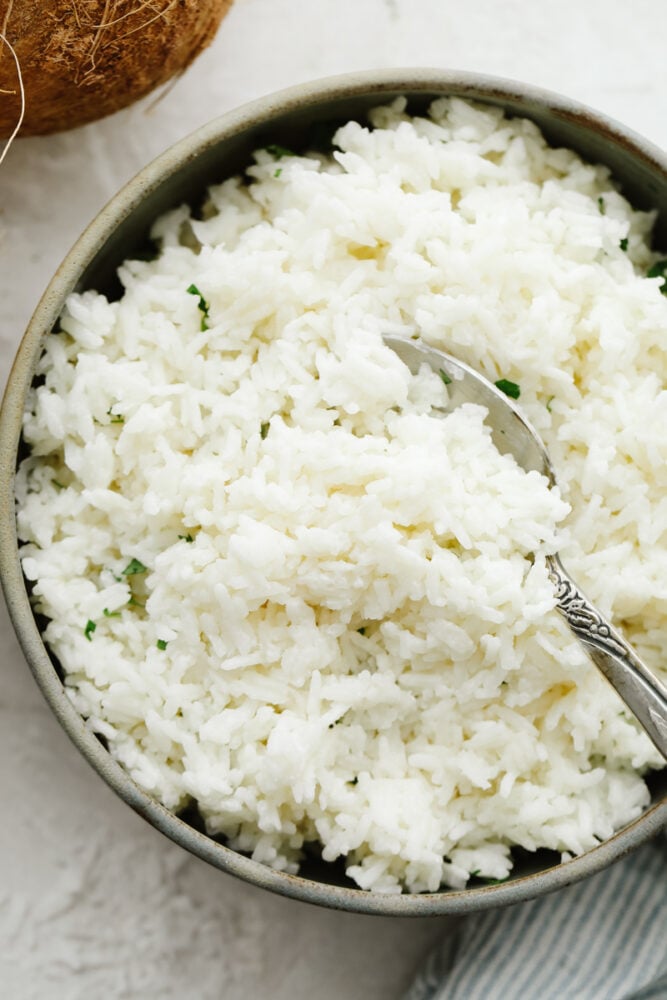 How to Store Leftovers
This rice is great for leftovers! Store this in your fridge in an airtight container and then it will last for 3-4 days. All that you have to do is reheat it in the microwave until it's warm! You can use it for lunches or dinners all week long!
---
In a medium sized sauce pan combine jasmine rice, coconut milk, water, sugar and salt.

Bring to a boil and reduce heat to low and cover for 12-14 minutes or until rice is tender and liquid is absorbed.
---
---
Serves: 6
Calories236kcal (12%)Carbohydrates51g (17%)Protein5g (10%)Fat1g (2%)Saturated Fat1g (5%)Polyunsaturated Fat1gMonounsaturated Fat1gSodium249mg (10%)Potassium196mg (6%)Fiber1g (4%)Sugar2g (2%)Vitamin C1mg (1%)Calcium29mg (3%)Iron1mg (6%)
All nutritional information is based on third party calculations and is only an estimate. Each recipe and nutritional value will vary depending on the brands you use, measuring methods and portion sizes per household.