Hancocks names royal tiara as jewel of the month
Hancocks London has named an en tremblant diamond and platinum floral tiara as its jewel of the month for April. Designed by E. Wolfe and Co, the London-based jewellery manufacturer, the tiara is based off a 1904 design by Otto Daumiller, brother-in-law of the group's founder. The piece is most well-known as Queen Elizabeth II's wedding tiara, and has also been worn by both Princess Anne and Princess Beatrice on their respective wedding days. It features floral and foliate sprays, set to the centre with a five-petalled rose and two further matching rose motifs. Cut diamonds and pear shaped diamonds weighing a combined 22.50cts are also a part of the tiara. Priced at £95,000, the tiara can be removed from its frame and attached to a diamond-set back chain to be worn as a necklace, with the roses also converting to a brooch and a pair of earrings. Guy Burton, of Hancocks London, said: ''We have seen a steady increase in the popularity of tiaras over the last couple of years and we feel this beautiful floral tiara offers a perfect marriage of tradition and modernity.  "An antique design brought up to date with an eye on versatility as well as beauty, this tiara is undoubtedly an antique of the future.''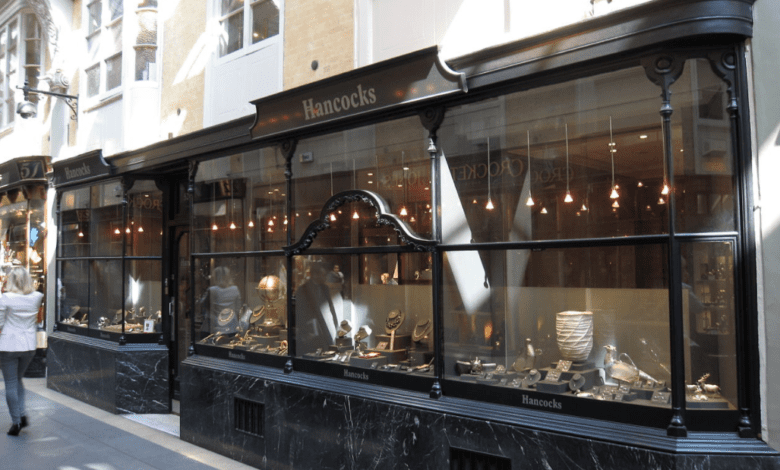 Hancocks London has named an en tremblant diamond and platinum floral tiara as its jewel of the month for April.
Designed by E. Wolfe and Co, the London-based jewellery manufacturer, the tiara is based off a 1904 design by Otto Daumiller, brother-in-law of the group's founder.
The piece is most well-known as Queen Elizabeth II's wedding tiara, and has also been worn by both Princess Anne and Princess Beatrice on their respective wedding days.
It features floral and foliate sprays, set to the centre with a five-petalled rose and two further matching rose motifs.
Cut diamonds and pear shaped diamonds weighing a combined 22.50cts are also a part of the tiara.
Priced at £95,000, the tiara can be removed from its frame and attached to a diamond-set back chain to be worn as a necklace, with the roses also converting to a brooch and a pair of earrings.
Guy Burton, of Hancocks London, said: ''We have seen a steady increase in the popularity of tiaras over the last couple of years and we feel this beautiful floral tiara offers a perfect marriage of tradition and modernity.
"An antique design brought up to date with an eye on versatility as well as beauty, this tiara is undoubtedly an antique of the future.''