Growing Plants on Building Walls
I must admit that vines clinging to the sides of a building or house can appear very charming. It is an Old World look which continues to be used as a lovely landscaping technique, including on new structures. Feng Shui principles usually echo universally good design and décor concepts, as well as outdoor hardscapes and landscapes.  However, sometimes what may look good or playful on the surface could have a non-obvious negative consequence. As with so many other considerations: volume, dosage, and context have to be factored into whether or not we agree that something is too little or too much. With any plant life that grows on a wall, if the plants overtake the wall, there is concern that the house will not be able to "breathe."  Aside from the fact that a heavy, thick wall of plants could harbor rodents or sustain a chronic damp, moldy surface, just the qi flow from inside to outside can be suffocated with something that has become overgrown and extreme. In comparing the photos in this article, most people will have no difficulty identifying which house has just enough plants and which house has too much. Anything in extreme is capable of causing an interior or exterior environment to be too "yin" or "too yang."  We don't want too many plants outside, inside, too much water, too close to a house and other physical attributes which can make people tense. Feng Shui Solutions (R) From the Landscape & Exteriors Blog Series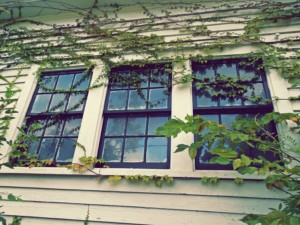 I must admit that vines clinging to the sides of a building or house can appear very charming. It is an Old World look which continues to be used as a lovely landscaping technique, including on new structures.
Feng Shui principles usually echo universally good design and décor concepts, as well as outdoor hardscapes and landscapes. However, sometimes what may look good or playful on the surface could have a non-obvious negative consequence. As with so many other considerations: volume, dosage, and context have to be factored into whether or not we agree that something is too little or too much.
With any plant life that grows on a wall, if the plants overtake the wall, there is concern that the house will not be able to "breathe." Aside from the fact that a heavy, thick wall of plants could harbor rodents or sustain a chronic damp, moldy surface, just the qi flow from inside to outside can be suffocated with something that has become overgrown and extreme.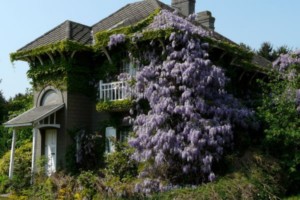 In comparing the photos in this article, most people will have no difficulty identifying which house has just enough plants and which house has too much.
Anything in extreme is capable of causing an interior or exterior environment to be too "yin" or "too yang." We don't want too many plants outside, inside, too much water, too close to a house and other physical attributes which can make people tense.