'Astonishing': Why Easton Wood is in awe of Marcus Bontempelli
Normal text sizeLarger text sizeVery large text sizeOne of the men initially presented with the Western Bulldogs' 2016 premiership cup on the MCG dais has revealed a unique feature about Marcus Bontempelli and says the superstar captain is ready to flourish come the grand final against Melbourne.Easton Wood, who stood in for injured skipper Bob Murphy when the Bulldogs broke a 62-year premiership drought, cannot believe how significantly Bontempelli, one of the favourites to win the Brownlow Medal on Sunday night, has improved his speed since the Northern Knights' product was the fourth pick in the 2013 national draft.Bontempelli, 25, has enjoyed a stellar season, averaging more than 26 disposals per game, and turning contests with his brilliance and drive."Firstly, I think his chances are pretty bloody good, having a front-row seat to watching him play this year has been remarkable," Wood said of Bontempelli's Brownlow hopes."He has been remarkable every year I have watched him. I mean, he has taken his game to another level this year. He is the only player I have ever seen in my entire career get faster as he has gotten older which is astonishing."He never used to break out of packs with pace when he started. Now, he just puts his head down, and he breaks through lines. He has always had that beautiful long left leg to take us forward, but now he does it with his legs. Instead of getting 60 or 70 metres, he is getting sometimes 80-odd metres which is astonishing."Greater heights: Bulldogs captain Marcus Bontempelli is one of the favourites for the Brownlow Medal on Sunday night.Credit:AFL PhotosRegardless of whether he is awarded the competition's highest individual honour, Wood said Bontempelli - having already been voted the AFL Players Association's most valuable player - was ready to handle the spotlight of leading in grand final week and the pressure of game day."He has managed pressure very well from as soon as he came in. He came in as an 18-year-old, and it was almost like you would have a 35-year-old veteran's head placed on an 18-year-old's shoulders. That's just how he has been," Wood said.Advertisement"He has always been really certain about what his goals are and what his drive is. He always comes with a curious attitude, but he always comes with a purpose. He has done that since he has come to the club. He just applies that to everything. He applies that to his captaincy."I am sure he won't be distracted at all by the stuff going on this week. The Brownlow, it would be lovely, it would be nice for him to win, but I know he couldn't care less. It's all about the game on the weekend. But we hope he wins [the Brownlow]."The Bulldogs held an intense training session in Perth on Saturday, with Alex Keath (hamstring) and Latham Vandermeer (hamstring tightness) looking to show they will be fit come game day.The Bulldogs have their own "freedom day" on Sunday when they finish quarantine, having been in a bubble for several weeks, including an unpleasant, even "laughable" short hotel stay in Brisbane before toppling the Lions in a semi-final.Regardless, Wood, 32, cannot believe he is back in another grand final, particularly as he has had to overcome three hamstring strains and ankle injury this season, which left him, at times, wondering whether his season, let alone his career, were finished.He missed both home-and-away matches against the Demons, but the versatile defender is preparing to spend time on a handful of the Demons' forwards, including Bayley Fritsch, Charlie Spargo and even Kysaiah Pickett. The latter has the pace of Charlie Cameron, the Lion whom Wood valiantly but unsuccessfully chased close to goal in the semi-final. The football world held its breath for Wood and his aching hamstrings at that point, and Wood said he had "nothing short of 15 messages about chasing Charlie" on his phone post match.Bontempelli and his predecessor Easton Wood embrace after the preliminary final win.Credit:AFL Photos"My phone blew up," he said. "That was one of those moments that was full stretch, full speed and, geez, Charlie is something else."But on a serious note, Wood - one of the game's most respected and deep-thinking figures - opened up about the emotions he had gone through this season."It has been quite a, particularly early in the year, really challenging year. I tore three hamstrings this year and then coming back through the VFL, I ruptured my lateral ligaments in an ankle," he said."At that point, before I got the scan on the ankle, I thought: 'If this is a break, I am out for three months and that is probably season over'. Going through all these waves of ups and downs, particularly with the third hamstring I did, I am thinking: 'All right, is this the writing on the wall. Is it just the body saying I might not be up to it anymore?'"But thankfully, as I have always done, I have gone back and worked with the physios and the fitness staff and just put the work in. I can't believe we are pla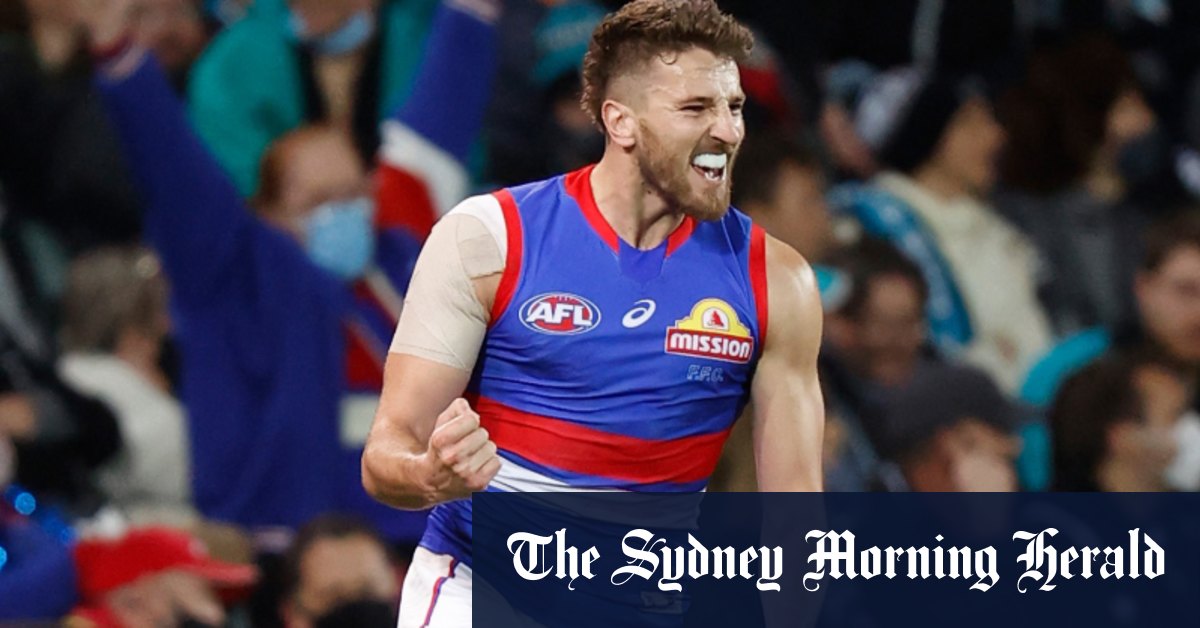 One of the men initially presented with the Western Bulldogs' 2016 premiership cup on the MCG dais has revealed a unique feature about Marcus Bontempelli and says the superstar captain is ready to flourish come the grand final against Melbourne.
Easton Wood, who stood in for injured skipper Bob Murphy when the Bulldogs broke a 62-year premiership drought, cannot believe how significantly Bontempelli, one of the favourites to win the Brownlow Medal on Sunday night, has improved his speed since the Northern Knights' product was the fourth pick in the 2013 national draft.
Bontempelli, 25, has enjoyed a stellar season, averaging more than 26 disposals per game, and turning contests with his brilliance and drive.
"Firstly, I think his chances are pretty bloody good, having a front-row seat to watching him play this year has been remarkable," Wood said of Bontempelli's Brownlow hopes.
"He has been remarkable every year I have watched him. I mean, he has taken his game to another level this year. He is the only player I have ever seen in my entire career get faster as he has gotten older which is astonishing.
"He never used to break out of packs with pace when he started. Now, he just puts his head down, and he breaks through lines. He has always had that beautiful long left leg to take us forward, but now he does it with his legs. Instead of getting 60 or 70 metres, he is getting sometimes 80-odd metres which is astonishing."
Regardless of whether he is awarded the competition's highest individual honour, Wood said Bontempelli - having already been voted the AFL Players Association's most valuable player - was ready to handle the spotlight of leading in grand final week and the pressure of game day.
"He has managed pressure very well from as soon as he came in. He came in as an 18-year-old, and it was almost like you would have a 35-year-old veteran's head placed on an 18-year-old's shoulders. That's just how he has been," Wood said.
"He has always been really certain about what his goals are and what his drive is. He always comes with a curious attitude, but he always comes with a purpose. He has done that since he has come to the club. He just applies that to everything. He applies that to his captaincy.
"I am sure he won't be distracted at all by the stuff going on this week. The Brownlow, it would be lovely, it would be nice for him to win, but I know he couldn't care less. It's all about the game on the weekend. But we hope he wins [the Brownlow]."
The Bulldogs held an intense training session in Perth on Saturday, with Alex Keath (hamstring) and Latham Vandermeer (hamstring tightness) looking to show they will be fit come game day.
The Bulldogs have their own "freedom day" on Sunday when they finish quarantine, having been in a bubble for several weeks, including an unpleasant, even "laughable" short hotel stay in Brisbane before toppling the Lions in a semi-final.
Regardless, Wood, 32, cannot believe he is back in another grand final, particularly as he has had to overcome three hamstring strains and ankle injury this season, which left him, at times, wondering whether his season, let alone his career, were finished.
He missed both home-and-away matches against the Demons, but the versatile defender is preparing to spend time on a handful of the Demons' forwards, including Bayley Fritsch, Charlie Spargo and even Kysaiah Pickett. The latter has the pace of Charlie Cameron, the Lion whom Wood valiantly but unsuccessfully chased close to goal in the semi-final. The football world held its breath for Wood and his aching hamstrings at that point, and Wood said he had "nothing short of 15 messages about chasing Charlie" on his phone post match.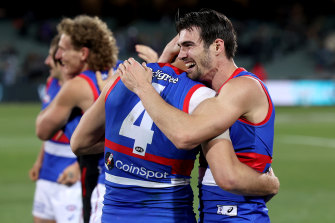 "My phone blew up," he said. "That was one of those moments that was full stretch, full speed and, geez, Charlie is something else."
But on a serious note, Wood - one of the game's most respected and deep-thinking figures - opened up about the emotions he had gone through this season.
"It has been quite a, particularly early in the year, really challenging year. I tore three hamstrings this year and then coming back through the VFL, I ruptured my lateral ligaments in an ankle," he said.
"At that point, before I got the scan on the ankle, I thought: 'If this is a break, I am out for three months and that is probably season over'. Going through all these waves of ups and downs, particularly with the third hamstring I did, I am thinking: 'All right, is this the writing on the wall. Is it just the body saying I might not be up to it anymore?'
"But thankfully, as I have always done, I have gone back and worked with the physios and the fitness staff and just put the work in. I can't believe we are playing in another grand final."